2010-2011 Best of Blogging Results!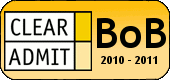 After a good month of consideration and evaluation, the votes for the sixth annual Best of Blogging competition are in! The purpose of the BoBs is simple: to identify and celebrate the applicant and student bloggers who have shared their lives with the online MBA community over the last year. The wisdom and knowledge that each nominee provided to their readers will last long after their own time in b-school has come to an end, leaving a proverbial 'treasure trove' for future applicants and students alike.
Without any further ado, or fanfare, here are the winners of this year's competitions!
Top Applicant Bloggers
1. Ellipser http://money9111.blogspot.com/
2. Random Wok http://www.randomwok.com/
3. Just Ship http://justship.wordpress.com/
4. Rolipolli http://rolipolli.wordpress.com/
5. KT http://iamalittlemorethanuseless.blogspot.com/
6. MBA Dreamz http://mbadreamz.wordpress.com/
7. Fortune 800 http://fortune800mba.blogspot.com/
8. Unfathomable http://knowingthepathandwalkingthepath.blogspot.com/
9. Arindam http://canadatousamba.blogspot.com/
10. A. http://a-myjourney.blogspot.com/

Most Entertaining Applicant Blog
Ellipser

Best GMAT Preparation Advice
GMAT Delhi
Best School Selection Advice
Unfathomable
Best Essay Advice
Ellipser
Best Interview Advice
JM
Best Single Post
Just Ship Am I one of the Top 4,653 Applicants?
Top Student Bloggers
1. Orlando http://www.kelloggmbaclassof2011.com/
2. Jeremy http://www.jeremycwilson.com/
3. Miltary to Business http://militarytobusiness.blogspot.com/
4. Rocky http://babsonmba2012.com/
5. Praz http://columbiambaclassof2012.blogspot.com/
6. Shobhit http://shobhitchugh.blogspot.com/
7. D.G. http://blog.dinogane.com/
8. Darden Poet http://dardenpoet.wordpress.com/
9. Paul http://mitlgo.tumblr.com/
10. Nistha http://nisthaonweb.com/blog/
Most Entertaining Student Blog
Orlando
Best Resource for Applicants
Military to Business
Best Job/Internship Advice
Jeremy
Best Representation of Academics
Orlando
Best Representation of Student Life
Rocky

Best Single Post by a Student
Jeremy  Happiness During First Year of Business School
Our warmest congratulations to all BoB nominees and especially to Ellipser and Orlando! We'll be getting in touch with the winners this week to solidify prize selection and distribution. The prizes for this year's competition were an iPod touch or $300 Amazon.com gift certificate for the winners, and the choice of a 6-month subscription to either the Business Week Magazine or the Economist for the second and third place bloggers.
Clear Admit would like to thank our FFF readers and Facebook fans for taking the time to delve deep into the great pool of b-school bloggers and cast their votes. Also, a big hand must go out to the entire MBA blogging community, nominated or not, without whom the BoB awards would not be possible. It is a pleasure and a privilege to follow the lives of so many interesting b-school applicants and students. We're looking forward to another great year of following the application and MBA experience – happy reading and writing!