Fridays From the Frontline
Well howdy, and welcome to Fridays From the Frontlines! Each week Clear Admit delves deep into the b-school blogosphere to learn the latest news from the applicant and student communities. This week was a pretty quiet week, though applicants were receiving more notifications of acceptances, waitlists or zaps.
Ccatcherreceived an acceptance video from Tepper and a Forte scholarship, but still worried about funding. Though he received a zap from ISB, Yours Truly planned on enrolling in another Indian business school. Sanket focused his latest post on how to prepare for sentence correction on the GMAT. The Senator offered an anecdote and outlook to those choosing between multiple acceptances. The Applicationist had a pragmatic reaction to a waitlist notification from Chicago Booth, but worried what it meant in terms of his Wharton application.

Harvard '13 Parker shared more photographs from her recent European vacation, all of which were awkward.
George Washington '12 Part-Timer shared the most valuable lesson he learned from his French study abroad experience. LBS '12 mbahut wrote about how to move forward and not stick with the status quo. Kellogg '12 Jeremy compared the approach to business that law firms and tech companies have, and declared law firms a tad bit slow.  Darden '12 Jonathan traveled to India on spring break.
And that's all the news for this week. We hope applicants continue to update us on how they fared and that students enjoy their spring classes. Until next week, have a great weekend!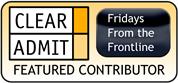 Want to join the Fridays From the Frontline community and see your blog featured regularly in this column? Just copy and paste the code found here to your blog and then email us at [email protected] with your URL so we can make sure to add you to our weekly roundups.