Fridays From the Frontline
Hello and welcome to Fridays From the Frontline, Clear Admit's weekly look-see into the lives of MBA applicants and student bloggers. This week covered a nice range of topics, from further notification from schools to advice to applicants on how to decide between school opportunities.
Ccatcher was unable to do her Cornell acceptance dance after receiving word of her placement on the school's waitlist. Unfathomable did some light reading on the MBA admissions process and identified five to six factors that play into how that process will go.
Johnson '13 Ellipser responded to emails from recently admitted, waitlisted and denied Johnson applicants. HBS '13 Parker shared where she was heading for her summer internship and was elected Co-President of the HBS Women's Student Association. Tepper '13 Julianne explained some of the pitfalls of group assignments. Sloan '13 ECLS joined fellow classmates on a trip out to California where they visited the headquarters of  LinkedIN and eBay.

Still adjusting to the time difference between India and Charlottesville, Darden '12 Jonathan gave his post over to a fellow classmate who shared her experience in New Orleans over Spring Break. Kellogg '12 Jeremy responded to an oft asked question of how to decide between a full-ride at a lesser known school and the chance to go to a school with more of a reputation, but no financial support.
And that's a wrap for this week. We hope that those still waiting for word from schools don't have to wait much longer, and that students continue to enjoy the warmer weather and dwindling days of their program. Until next weekend, have a great weekend!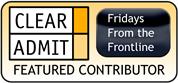 Want to join the Fridays From the Frontline community and see your blog featured regularly in this column? Just copy and paste the code found here to your blog and then email us at [email protected] with your URL so we can make sure to add you to our weekly roundups.