MIT / Sloan Essay Topic Analysis 2012-2013
Now that MIT Sloan has released its 2012-2013 essay questions, we'd like to take the time to offer some advice on how to best approach these prompts.  Although there are a few significant changes to the questions themselves, this season's essays continue MIT's traditional emphasis on proactiveness, encouraging applicants to reflect upon how they have taken charge of a situation and convinced others of their point of view.  As has been the case in prior years, the essay questions are open in terms of the nature of the examples an applicant can use—work, current activities, and even appropriate personal stories are fair game here.  In answering the questions, applicants should provide a complete and chronological narrative that touches on their thoughts, feelings, words, and actions.  The philosophy behind Sloan's approach is that past behavior is a reliable predictor of future behavior, so it will be wise to select examples that show you at your best.  Choosing strong essay topics is particularly important this year given that the adcom has reduced the number of required essays by one, leaving applicants only a cover letter and two essays in which to illustrate the various strengths of their candidacy.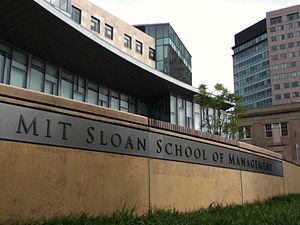 One final thing to note is that MIT once again requests that applicants select experiences or events from the past three years.  While it's possible that there is some flexibility to draw essay subject matter from early experiences if the material is very compelling, it would be prudent to showcase experiences from the past three years in as many essays as possible.
Cover Letter: Please prepare a cover letter seeking a place in the MIT Sloan MBA program. Your letter should describe your accomplishments, address any extenuating circumstances that may apply to your application, and conform to standard business correspondence. Your letter should be addressed to Mr. Rod Garcia, Senior Director of Admissions. (Up to 500 words)
Rod Garcia has long likened the MBA application process to the recruiting process; MBA aspirants, just like job applicants, need to demonstrate that they know how to market themselves.  This is why the school requires a cover letter as part of their application.
As you approach this assignment, keep in mind that many of the standard cover letter themes need to be discussed—your attributes and skills, why you are interested in joining the 'company' (MIT / Sloan), and what you feel you could contribute.  These certainly intersect with the ideas covered by other schools' "career goals" essays, so much so that it may be tempting to simply tack a greeting onto the beginning of a career goals essay you've prepared for another program.  MIT's request for these ideas in a cover letter format, however, actually makes it very easy to spot recycled material, so it's important that you tailor your response to the school's unique process.  It's also worth noting that the Sloan admissions team has been open about their decision to avoid direct questions about 'why MIT' or 'specific career goals' – so while those themes may play a role in your cover letter, the focus should be largely on who you are and what you have accomplished, as opposed to a simple expression of your love of the program/plans for the future.  A potential outline for this essay might open with a greeting to the committee, followed by a detailed statement of who you are and what you would bring to the school; then a short statement of your career goals with a summary of the ways in which your experience to date has prepared you to accomplish them; and finally a brief "why MIT" section explaining why Sloan is the best place for you in terms of what you need from an MBA and your fit with the school, concluding with a thank you.  To effectively convince the adcom that your background is uniquely suited to MIT Sloan, it will be important to conduct a fair amount of research on the program.  Taking the time to learn about MIT's curriculum, special programs and extracurricular activities—whether through a visit to campus, conversation with alumni or reading the Clear Admit School Guide to MIT Sloan—will pay dividends here.
Applicants should also note the changes in phrasing between the cover letter prompts from last year and this year.  Previously, the adcom asked applicants to "include an example of how you had an impact on a group or organization."  That aspect of the essay question is now gone, and has been replaced with "address any extenuating circumstances that may apply to your application."  While applicants are still asked to "describe your accomplishments," the new instructions suggest that applicants do not need to place a particular emphasis on any one specific achievement.  This gives applicants more room to give a holistic overview of their candidacy, including extenuating circumstances such as a low GPA, gaps in employment, major career changes, etc.
Essay 1: Please describe a time when you had to convince a person or a group of your idea. (500 words or fewer, limited to one page)
With the exception of a few minor changes in wording, this essay question is virtually identical to Essay 2 from last year's application.  The prompt calls for a discussion of how the applicant handles opposition or resistance to an idea, while managing potential interpersonal fallout in navigating the situation.  In providing a detailed description of the situation and the steps taken to garner support from others, applicants should highlight their ability to persuade and inspire others to accept their ideas, as well as their sensitivity and receptiveness to others' concerns and suggestions.  In doing so, applicants will highlight their problem-solving and leadership skills, thus showing the adcom that they possess the ability to succeed through challenges at MIT Sloan and in their future careers.
Essay 2: Please describe a time when you overcame a personal setback. (500 words or fewer, limited to one page)
New to the MIT application, this essay requires applicants to showcase how they can turn a negative situation into a positive one.  The term "setback" means that applicants have the freedom to discuss either a situation in which they were at fault, or one in which the cause was external.  Meanwhile, the specification that the setback be personal implies that applicants will ideally write about something broader than a simple project-related setback at work – or that at minimum, the setback in question brought about more weighty personal reflection.  That said, there is a bit of flexibility here, as some people's personal stories are related to their work (overcoming a difficult relationship with a mentee, for example).  Overall, the key is to show that you are able to overcome whatever obstacle is placed in your way by being adaptable, reflective and resilient.
Need help with your essay?
Call Veritas Prep at +1-310-295-2098 or click to