NYU Stern Essay Topic Analysis 2012-2013
While Essays 1 and 2 have undergone some amendments for the 2012-2013 season, NYU Stern has hardly changed Essay 3 and, unlike many of its peer programs, has retained the same word limits for each of its essays.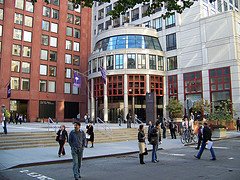 Though the desired content is distributed differently between the first two responses this year, Essays 1 and 2 are still essentially concerned with discovering an applicant's professional goals and reasons for pursuing an MBA from Stern.  Meanwhile, Essay 3 retains the creative element of the application for another year, giving candidates a great deal of leeway in introducing themselves to the Stern community.
Essay 1: Professional Aspirations (750 word maximum, double-spaced, 12-point font)
(a) Why pursue an MBA (or dual degree) at this point in your life?
(b) What actions have you taken to determine that Stern is the best fit for your MBA experience?
(c) What do you see yourself doing professionally upon graduation?
Essay 1 retains a three-part structure from the previous admissions season, but this year's wording puts a slightly different spin on Stern's version of a "why MBA" essay; in fact, the career goals aspect of Stern's Essay 1 has been largely moved to Essay 2.  Rather than opening with a request for an applicant's professional trajectory, Stern first invites candidates to explain why they are seeking an MBA right now.  Applicants will need to clearly convey a fairly immediate need for an MBA in very concise terms, working carefully to integrate their answers with those of Essay 2.
The second part of the prompt is reminiscent of Stern's Essay 2 from the 2011-2012 season: Sensitive to the fact that applicants targeting Stern may also be applying to other programs that are strong in finance – especially regional peer Columbia – NYU is essentially asking applicants exactly how much homework they've done on the Stern program.  Thus, applicants should aim to highlight the insights that they gained from visiting the Stern campus, visiting classes and speaking with students and alums. Applicants might also consider reading the Clear Admit School Guide to NYU Stern to help in this area.  Finally, candidates answering Essay 1c would do well to keep the phrase "upon graduation" in mind in order to provide a more short-term picture of their post-MBA professional goals.
This is a good deal of information to pack into a 750-word essay, but introducing the central elements of one's candidacy in such a brief essay is definitely achievable, provided that applicants take their time to compose well-crafted and concise responses.
Essay 2: Your Two Paths (500 word maximum, double-spaced, 12-point font)
The mission of the Stern School of Business is to develop people and ideas that transform the challenges of the 21st century into opportunities to create value for business and society. Given today's ever-changing global landscape, Stern seeks and develops leaders who thrive in ambiguity, embrace a broad perspective and think creatively about the range of ways they can have impact.
(a) Describe two different and distinct paths you could see your career taking long term. How do you see your two paths unfolding?
(b) How do your paths tie to the mission of NYU Stern?
(c) What factors will most determine which path you will take?
Stern has taken an unusual tact to their career goals essay, now requiring candidates to consider two future career paths rather than naming a single long-term professional target.  This may be in light of the fact that admissions committees generally desire applicants to enter business school with a clear professional goal yet realize that this goal may change over the course of their studies.  Given the 500-word limit, applicants will need to be succinct when describing these two possibilities and should take special care – based on Essay 1b – to ensure that their professed career paths are a good fit with the resources and atmosphere of NYU Stern.  Candidates should also offer answers to Essay 2a and 2b that seem viable in connection with the short-term goal stated in Essay 1c.
The final part of the prompt offers applicants a good deal of freedom and opens the door for many possible approaches – will an aspect of your Stern business school experience ultimately determine your choice of career paths?  Or could an upcoming personal or professional experience make a significant impact on your choice?  Applicants would likely do well to spend time considering all the factors that might influence their choices and then shortlisting a small selection of these elements to wrap up their essays.
Essay 3: Personal Expression
Please describe yourself to your MBA classmates. You may use almost any method to convey your message (e.g. words, illustrations). Feel free to be creative. If you submit a non-written piece for Essay 3 (i.e., artwork or multimedia) or if you submit Essay 3 via mail, please upload a brief description of your submission with your online application.
Guidelines for Essay 3:
Your submission becomes the property of NYU Stern and cannot be returned for any reason.
If you submit a written essay, it should be 500 words maximum, double-spaced, 12-point font.
If you submit a video or audio file, it should be five minutes maximum.
If you prepare a multimedia submission, you may mail a CD, DVD or USB flash drive to the Admissions Office. These are the only acceptable methods of submission.
Please do not submit an internet link to any websites or to a video hosting service such as YouTube.
The Admissions Committee reserves the right to request an alternate Essay 3 if we are unable to view your submission.
Do not submit anything perishable (e.g. food), or any item that has been worn (e.g. clothing).
Candidates should also make sure to visit Stern's website to review the size restrictions for Essay 3. Submissions that exceed the restrictions will not be accepted.
Essentially unchanged from previous years, this essay gives applicants a chance to showcase their creative sides by allowing them a broad range of (non-perishable) possible media in which to express themselves.  Candidates with an artistic inclination, or those who harbor a passion that could be better conveyed through a method other than prose, might seriously consider submitting a poem, photograph or visual representation of their message.  As in the past two years, NYU also allows submissions that can be viewed or played electronically.
It's crucial to carefully consider just what needs to be communicated in this introduction to your future classmates.  You'll want to think reflectively about your values and personality as well as strategically about what makes you unique with respect to other applicants.  Naturally, you'll also want to communicate your enthusiasm about meeting and working with your fellow students and perhaps include a comment about how you would engage them that does not cover the same ground as your first two essays.  With these concerns in mind, it might not come as a surprise that, over the years, we've found that the written word tends to be an effective format for a high percentage of applicants.  There is still a great deal of room in which to be creative; for instance, your essay might be the opening to a chapter in an autobiography, or a snapshot of a typical day.
While Chicago Booth's "blank pages" essay involving the use of PowerPoint may help get the creative juices flowing, applicants applying to both programs would be ill advised to fully recycle material between the two essays (e.g., submitting a PowerPoint presentation to Stern), as this would likely be quite conspicuous.
Need help with your essay?
Call Veritas Prep at +1-310-295-2098 or click to