Berkeley / Haas Essay Topic Analysis 2012-2013
While Berkeley / Haas has made a few interesting changes to its essay set for the 2012-2013 admissions season, the school begins its list of questions with the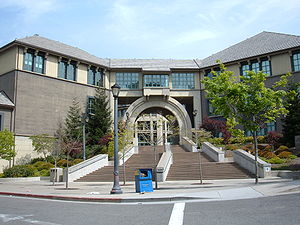 same reminder as in previous years:
"At Berkeley-Haas, our distinctive culture is defined by four key principles—Question the status quo; Confidence without attitude; Students always; and Beyond yourself. We seek candidates from a broad range of cultures, backgrounds, and industries who demonstrate a strong cultural fit with our program and defining principles. Please use the following essays as an opportunity to reflect on and share with us the values, experiences, and accomplishments that have helped shape who you are."
Applicants would therefore do well to select examples and respond to each of the program's required essays in a way that, in aggregate, touches upon these four principles.
Haas has also reduced the overall length of its essay set.  While last year's application featured a total of six required essays, this year's application has only four 250-word essays and one 750-word essay.
Now let's examine each essay individually:
Essay 1: If you could choose one song that expresses who you are, what is it and why? (250 word maximum)
New to the Haas application, this question signals the adcom's interest in getting to know applicants on a more personal level.  While applicants have a myriad of options in choosing a song to discuss, the most important part of your response will be to show the adcom that you have a clear understanding of who you are.  On the margin, it's also worth keeping in mind that picking a song that is not on everyone's playlist may help you stand out from other applicants and showcase a tendency to go off the beaten path rather than merely follow the pack.  No matter how you proceed, you should not presume knowledge of your chosen song on the part of the admissions reader – citing lyrics or musical moods and mapping them to your own character/personality – rather than expecting the reader to make connections based on their own knowledge of the song – will be vital.
We understand that unusual questions such as this one can seem extremely challenging, so feel free to contact us for a consultation, in which a Clear Admit Admissions Counselor can help you think through the elements of your profile and determine how to best respond to this prompt.
Essay 2: What is your most significant accomplishment? (250 word maximum)
Making an appearance on the Haas application for another year in a row, this is a very tall order for a 250 word essay, so brevity will be key. You'll clearly want to select an impressive achievement to discuss—ideally one in which you had a positive impact on a person, group or organization (as it would reflect well on you to say that you consider it significant that you improved something for others). It will be important to comment not only on the results, but also on the actions and thought process by which you brought them about. Note that the question does not limit you to the professional realm, so feel free to think of examples from your outside activities in selecting a topic for this short response.
Essay 3: Describe a time when you questioned an established practice or thought within an organization. How did your actions create positive change? (250 word maximum)
Also a repeat from last year's application, this prompt gets to the heart of Haas's "question the status quo" principle, and could provide a nice opportunity to demonstrate "confidence without attitude" as well.  The parameters of this essay are fairly straightforward, and it's clear that Haas is looking for students with prior experience as change agents.  For some candidates, an example will come readily to mind, while others may have to be a bit more creative in identifying an anecdote they can spin as a response to this question.  Either way, you'll want to provide a brief summary of the situation that led you to make a suggestion or question a practice, walk the reader through your process in escalating the issue or enacting change, and paint a clear picture of the improved state of affairs afterward.
Essay 4: Describe a time when you were a student of your own failure. What specific insight from this experience has shaped your development? (250 word maximum)
This prompt about learning a valuable lesson from a failure represents a fairly conventional b-school essay topic, with the added challenge of conveying all of the pertinent details in just 250 words.  As is common practice for this sort of response that requires candidates to introduce negative information, you'll want to summarize the situation and the failure itself in relatively few words, reserving the bulk of the essay for a treatment of the insight you gained from this experience and the ways it has shaped your development and experiences since.  Haas's wording about being a student of one's own failure suggests an emphasis on reflection, humility and a willingness to learn from one's mistakes, so it may also be prudent to demonstrate a proactive approach to growing from the situation you chose for this response.
Essay 5: a. What are your post-MBA short-term and long-term career goals? How have your professional experiences prepared you to achieve these goals?
b. How will an MBA from Haas help you achieve these goals? (750 word maximum for 5a. and 5b.)
This is a fairly standard career goals essay asked by virtually all MBA programs, requiring applicants to provide an overview of their career to date, describe their short- and long-term objectives and explain their reasons for seeking an MBA from Haas in particular. As a general rule, specificity of career goals is of the utmost importance. Given the wording of Berkeley's question, it will also be beneficial to draw explicit links between your previous experiences and future objectives in addition to touching upon the skills you've gained and lessons you've learned over the course of your career.
As the subject of the final question of this prompt suggests, demonstrating an understanding of the unique merits of Berkeley's program is crucial to an effective response to this question. Taking the time to learn about the school's curriculum, special programs and extracurricular activities—whether through a visit to campus, conversation with alumni or reading the Clear Admit School Guide to Haas—will pay dividends here.
Interestingly, Haas chooses to end its essay section with the typical career goals essay, whereas most schools lead off with this topic. Rather than providing an overview of, and introduction to, your candidacy, as is the case with the career goals essay for most schools, this essay will instead be the culmination of your message to the adcom. Make sure to tie together the themes that you've introduced in your other responses, and end on a note of enthusiasm about the program and the timing of your application.
Related articles
Need help with your essay?
Call Veritas Prep at +1-310-295-2098 or click to