CMU / Tepper Essay Topic Analysis
Following up on our recent announcement of Tepper's 2012-2013 essay topics, we'd like to offer up some commentary on this aspect of CMU's MBA application.  Tepper's prompts are only slightly different from last year's, and suggest a continued interest in the applicant's broad goals and ability to make an impact, as well as curiosity about the candidate's approach to handling challenges or conflict.  Although there are no prescribed word limits, the admissions office suggests a length of two double-spaced pages each for Essays A and B and one double-spaced page each for Essays C and D.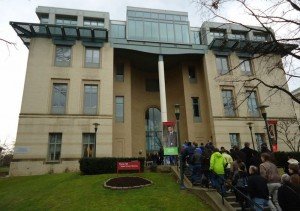 Essay A: What are your short-term and long-term goals? How will a Tepper MBA help you to achieve these goals? (Please include any information regarding what steps you have taken to learn more about the Tepper School of Business at Carnegie Mellon University.)
For another year in a row, Tepper has taken the fairly typical approach of leading off with a standard career goals essay—and at two double-spaced pages, they allot a very reasonable amount of space for applicants to use in addressing this subject.  The key for Tepper applicants will be to formulate a directed discussion that speaks to the question, making judicious mention of one's career to date where appropriate in explaining one's motivation and preparedness for his or her goals.
One more thing to note is that by asking applicants to detail the steps that they've taken to learn more about Tepper, the adcom is signaling the high importance of researching the program and understanding why it would be uniquely appropriate for you.  Discussing campus visits or exchanges with current students and alumni would be a great way to demonstrate your engagement with the community and to emphasize that you are making an informed decision in applying.  To further your research, we encourage you read the Clear Admit School Guide to Tepper, which contains a detailed and objective overview of the school's academic and extracurricular offerings.
Essay B: The Tepper School is looking for individuals who will make an impact. Give an example of a time where you made an impact in your professional or academic life.
Another repeat from last year's application, this second question is a classic in terms of MBA essays, as adcoms are interested in learning about your leadership potential and ability to make a substantial positive impact in the MBA community.  Whether you choose to cull an example from your professional or academic life, it's important to put the story in context before clearly outlining the actions you took and the results you achieved.  The more detail you're able to provide about your role in achieving a positive outcome, the easier it will be for you to accurately demonstrate your leadership skills.
Another thing to keep in mind is that this essay lends itself nicely to showcasing your innovative spirit.  For example, perhaps you designed a new process to streamline work flow that has since been fully adopted and implemented by your employer.  In addition to mentioning the financial impact of this innovation for your firm's balance sheet, you could also reference the lasting impact that it will have going forward.
Essay C: Describe an obstacle or ethical challenge that you have faced in your professional or academic life. How did you deal with this situation and what did you learn from it?
In this essay, applicants are given the option to cover either an obstacle or an ethical challenge they've encountered.  Those who choose to feature an obstacle have the opportunity to highlight instances of resourcefulness and persistence, and to provide insight into their personal and professional maturity over the course of a narrative.  After describing the initial obstacle in detail, applicants should comment on both their thoughts and actions as they take the reader through the process of addressing or overcoming the challenge in question.  Whether covering a professional or academic story, the major themes of growth and learning remain the same.  Applicants should keep in mind that the adcom will be using their account of their past thoughts and experiences as a barometer to measure their current attitudes and future approaches.  You'll therefore want to aim to highlight skills that are transferrable to challenges you may encounter in business school and afterward or touch upon the ways your ensuing development has served you since in your career.
Applicants who opt to discuss an ethical challenge they faced should note that questions of this sort are designed to gauge their ability to see two sides of a situation and appreciate the merits of both in order to ultimately select the best possible solution.  The "challenge" aspect of the prompt indicates that it's not enough to simply discuss as situation where you chose to do the right thing; you need to be able to show that there was a compelling reason for you to have acted otherwise.  After setting the scene in your essay, you should explore the dilemma in depth, analyzing each of your options and explaining the potential positive and negative consequences of each. Once you've acknowledged the difficulty of the situation, you should lead the reader through your decision-making process, explaining the reasons behind your ultimate decision. Ideally, your strong grasp of leadership and of problem-solving will be displayed by this analysis. Finally, you should present the results of your decision and the lessons you learned from the experience.
Essay D: Please answer one of the following two questions. Please clearly specify which question you are answering.
1. Outside of my professional and/or academic life, one thing that people would be surprised to know about me is…
2. Outside of my professional and/or academic life, I am especially proud of…
Both of these questions provide a chance for candidates to explore an important aspect of their candidacy not mentioned in their data forms, resume, or other responses. For applicants from oversubscribed groups in the applicant pool, Essay D offers a great opportunity to truly stand out from the crowd by sharing an interesting hobby or anecdote.
In Option 1, the element of "surprise" hints that the topic should not be one that the reader could readily discern from your essays, work history or major extracurricular involvements.  Perhaps you played the flute for 15 years, are an expert in bicycle repair, or once visited ten countries in as many days.  Whatever topic you select, it would be ideal to link this surprise quality or fact to some element of your future experience in the MBA program.
In Option 2, you're given the chance to tell the adcom about a personal accomplishment outside the realm of your achievements at work and in the classroom.  This option presents an ideal opportunity to tell the adcom about your award-winning photography skills, first-place finish in the Boston Marathon, or personally fulfilling experience of mentoring a high-school student.  There are a range of appropriate topics that could answer this question while giving the adcom a broader view of your candidacy.  In addition to informing the adcom about what you do in your free time, your response will give the adcom a sense of your values.
Related articles
Need help with your essay?
Call Veritas Prep at +1-310-295-2098 or click to