Cornell / Johnson Essay Topic Analysis 2012-2013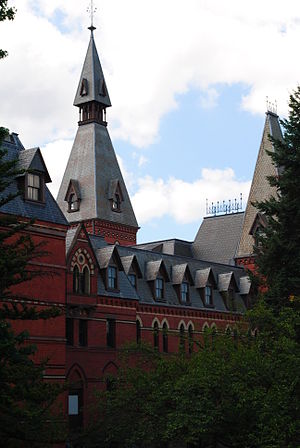 As prospective students might have noticed when the Johnson School's 2012-2013 application essay topics were announced at the end of June, Cornell is shaking things up this year.  The admissions committee has created two career and goals related essays – placing an even greater emphasis on this topic – and has eliminated altogether the 200-word legacy question.  Finally, the school's ever-tricky "life story/table of contents" question returns for a fifth year running, but is no longer required. This year, applicants can choose from among three character-related essay prompts.
Let's take a closer look at each and consider some strategies for tackling this year's application essays:
Essay 1: How would you characterize your career since college? (300 words maximum)
This is not your job description or complete history of your work since graduating (we already ask for that in the online portion and can see this on your resume).  You need to choose the most important elements that show your initiative, contribution, leadership and results achieved.
New to the application this year, this essay may seem somewhat similar to INSEAD's first job description essay.  However, as Director of Admissions Christine Sneva shared with us, the Johnson adcom views this as an exercise that will prepare applicants to give a "30-second elevator pitch" of their professional background to future employers.  With this advice in mind, we suggest that applicants go beyond presenting a rundown of what's covered on their resumes.  Thinking about key themes in one's career as well as the turning points and significant achievements is a good place to start.  No matter what course your career has taken, it is important to highlight the pivotal moments that have brought you to where you are today.  Providing the adcom with insight into why you made the career decisions you did and what professional accomplishments led to your promotions would go a long way in helping them put your work history in context.  Because you only have 300 words to convey your message, it will be imperative to use economy of language and only include those examples that are most impressive to your candidacy.
Essay 2: Tell us about your short and long term career goals. (400 words maximum)
Please show you have a clear direction for your goal post-MBA.  Good essays will emphasize what an applicant wants to do while at Johnson and how you will use this experience to accomplish your goal.
This is a fairly typical career goals essay.  Although there is no follow-on asking "how Johnson will help you achieve this goal," applicants would do well to understand this inquiry as implicit as they approach this response, including at least a few sentences on this subject (see Christine's Sneva's directions in italics). With the new prompt dedicated specifically to a candidate's career to date, it remains that one's professional goals are the primary focus of this prompt.  With this in mind, be sure to provide a detailed treatment of the path you hope to take after completing business school and the reasons why you believe an MBA is essential to your overall plan.  Applicants should view this essay as their single chance at this stage in the application process to convey to the adcom that they have a clear vision of where they hope to end up immediately post-MBA and several years down the road.
There won't be any room for a discussion of the general merits of a business education here – it will be crucial to include a significant amount of school-specific information to prove that you've done your homework on Cornell and are sincerely interested in the program.  Demonstrating an understanding of the unique merits of Johnson's program will be integral to an effective response to this question. Taking the time to learn about the school's curriculum, special programs and extracurricular activities – whether through a visit to campus, conversation with alumni or reading the Clear Admit School Guide to the S.C. Johnson Graduate School of Management  – will pay dividends here.
Essay 3: Please choose one of the following to write about (400 word maximum for chosen question):
a. You are the author for the book of Your Life Story.  Please write the table of contents for the book.  Note: Approach this essay with your unique style.  We value creativity and authenticity.
This unusual prompt calls for a high-level and non-narrative overview of an applicant's life to date. Internalizing the "Note" for this essay, applicants should understand that while the structure for this essay is set, there's still a good deal of room for strategy and creativity: candidates are free to decide which eras or events to highlight, how to title each chapter, and so on. Though relying on a list format might be a viable approach, candidates will likely get more mileage out of this essay by structuring information in paragraphs or a series of sub-sections under broad chapter headings, offering a description of that "chapter" in your life and drawing out the important themes of the story. Regardless of the format you chose, make sure that it allows you to provide an authentic representation of yourself.
As for the content itself, the admissions committee is likely looking for a sense of each candidate's background, as well as his or her trajectory and growth over time. Touch on those events and accomplishments that are most meaningful and important to you, highlighting the ones that have shaped your personal development. Remember, though, that this is a b-school application, so you will also want to share information that is relevant to your current work and your future objectives without too much repetition of points raised in your other essays. Overall, you want to make sure to highlight the unique aspects of your personality and candidacy, as doing so will allow you to stand out from others in the application pool.
b. Describe a situation taken from your personal or professional life where you failed and tell us what you learned.
This is a classic failure essay that requires applicants to call attention to a time when expectations were not met and share their reflections and lessons learned from the experience.  We suggest approaching such prompts with an eye for balancing the storytelling with the personal insights, keeping in mind that the reason a school asks this question is to discern whether a student is able to learn from experience and avoid repeating past mistakes. Examples of failures, as the adcom states, can come from either the personal or professional realm, leaving applicants with a breadth of topics from which to choose.  As with all failure essays, by being as concise as possible in your description of the situation there is more room to focus on what you learned and perhaps how you implemented your altered approach in subsequent situations.
c. What does diversity mean to you and how will you contribute to the diversity of our community at Johnson?
In asking this two-part question, Johnson is indicating that it puts a premium on student contribution and a diverse student body.  Instead of regurgitating a dictionary definition, applicants would be best served by drawing upon their experiences with diversity, particularly those pertaining to working, living and learning among a group of diverse peers.  The second part of the prompt allows applicants to showcase what it is that makes them unique and how these characteristics, interests and elements of their background will positively affect the experience of other members of the Johnson community.
Need help with your essay?
Call Veritas Prep at +1-310-295-2098 or click to