UVA / Darden Essay Topic Analysis 2012-2013
Continuing our series of posts analyzing the essay topics of top business schools, we're now turning our attention to UVA / Darden's essays for 2012-2013.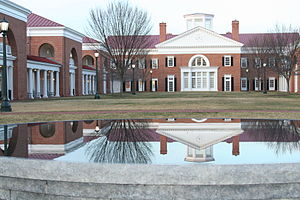 While Darden has kept last year's structure of one 500-word essay and two shorter essays, the adcom has revised all three topics this year, placing slightly more of an emphasis on an applicant's professional experiences and goals.  Let's take a closer look at each question:
Essay 1: Share your thought process as you encountered a challenging work situation or complex problem. How did this experience change your perspective? (500 words maximum)
Making a new appearance on Darden's application, this question asks applicants to explain how they thought through and resolved a difficult professional situation or problem.  There are a wide range of viable topics here, from a conflict with a colleague, to an ethical dilemma, to a particularly complicated work assignment.  Regardless of the event you write about, the key to a strong response will be to provide the adcom with insight into your rationale, explaining the various issues you weighed and the reasons behind the course of action your chose.  In the second part of the question, applicants are asked to take a step back and reflect on how that difficult experience has shaped their outlook, indicating that the adcom is interested in learning about the evolution of an applicant's approach to business issues.
Career Goals Essay: What is your short-term career goal and why? (250 words)
This prompt is an abbreviated version of the typical career goals essay, focusing only on applicants' career plans for immediately after graduation rather than for the long term.  In addition to describing their ideal target employer(s) and job position, applicants are also asked to explain the motivation behind their choices.  Connecting your detailed plans to your prior career experiences and demonstrated passions will go a long way towards proving to the adcom that your plans are realistic and well thought through.
Contribution Essay: At Darden, a core part of the academic experience is participation in and contribution to your learning team. In what ways will your teammates say that you add value? (150 words)
A slight variation from last year's application, this straightforward question presents an opportunity for applicants to highlight their teamwork skills, strengths, personality and general interests to the admissions committee.  Keep in mind that this question also offers applicants a great chance to showcase their familiarity with the Darden program and prove that they've done their homework, as well as demonstrate that they've thought through the contribution they would make and the strengths they could bring to the program.  With only 150 words allotted for this essay, applicants will need to be highly efficient with their writing.
Need help with your essay?
Call Veritas Prep at +1-310-295-2098 or click to