Fridays From The Frontline
Hello there and welcome to Fridays From The Frontline, Clear Admit's weekly pursuit of the freshest news from the b-school blogosphere. This week found applicants covering a number of topics while students focused on why their degrees were valuable and how they were spending their down time.
Asax reviewed Clear Admit's ISB School Guide, which he considered a huge time saver when it came to school research.  MBAOver30 enjoyed a sweet treat for Boss' Day and was a little nervous with interview invitations looming. Sassafrass responded to questions that many a nervous applicant may ask, covering GMAT scores and recycling essays. Unclear Admit experienced true frustration when his laptop, with newly drafted MIT essays, fell and wouldn't turn back on. Amit attended the World MBA Tour in Bangalore.

LBS '14 Maggie found that an MBA schedule could be exhausting yet rewarding.    McCombs '14 Sandeep wrote about why an MBA is so important to those with engineering backgrounds hoping to transition to business roles.
INSEAD '13 Alma had a magic weekend. LBS '13 Gayathrisai went go-karting. INSEAD '13 Eric discussed how he managed his energy and time.
And that's a wrap for this week's Fridays From The Frontline. We hope that all applicant bloggers soon receive interview invitations and that current students continue to share their respective school experiences. Until next week, have a great weekend!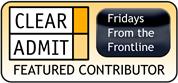 Want to join the Fridays From the Frontline community and see your blog featured regularly in this column? Just follow this link and add the FFF badge to your blog and then  email us at [email protected] with your URL so we can make sure to add you to our weekly roundups.