USC / Marshall Essay Topic Analysis 2012-2013
The USC Marshall essay topics for the 2012-2013 admissions season remain largely the same as those posed to applicants for the past several years, demonstrating the school's continued interest in applicants' contributions to their communities, international experiences, and personal growth.  Let's take a look at each question in more depth: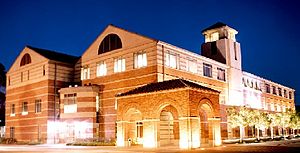 Essay 1: What are your short-term career goals post MBA? How will USC Marshall help you achieve these goals? (750 words)
This essay is similar to the career goals essay required by many of the top schools.  Applicants should note, however, that Marshall has slightly changed this question this year by asking only for a description of applicants' short-term goals, rather than their plans for both the short term and the long term.  Although Marshall does not specify how applicants should distribute their words between the two parts of this prompt, it would be prudent for candidates to maintain a balanced approach to answering this question.  In addition, because Marshall does not specifically ask for a career history section, applicants should keep any description of their professional experience to a minimum, connecting it to their interest in and potential to achieve their goals.  Taking the time to learn about the school's special programs and extracurricular activities—whether through a visit to campus, conversation with alumni or reading the Clear Admit School Guide to USC Marshall School of Business—will pay dividends here.
Essay 2: How will other USC Marshall MBA students benefit from your background, experience, leadership and teamwork skills? (500 words)
Although many applicants end their career goals essay discussing the contributions they would make to a school's program, USC Marshall's second essay question specifically asks candidates to address the ways in which they can give back to the school.  This prompt is fairly broad, but applicants should remember to select unique information about their backgrounds, experiences, leadership and teamwork skills to help them stand out to the adcom.  Rather than simply addressing how they will contribute to courses, applicants should think of other avenues such as clubs and other extracurricular offerings through which their skills and past experiences would allow them to benefit their fellow students at USC Marshall.  Considering that this is a fairly short essay, it's probably best to focus your discussion to two or three topics, remembering to highlight your prior experiences with leadership and teamwork.
Essay 3: Select three from the following and describe: (250 words each)
a) A challenging international business experience.
b) How would you contribute to the "Trojan Network."
c) Your most significant accomplishment.
d) A personal or professional setback.
e) Introduce yourself to your future Marshall classmates in 100 words or less.
Candidates have a wide range of topics they could consider discussing in response to this essay.  Applicants should make sure to provide a well-rounded picture of their candidacy by drawing from both professional and personal experiences in responding to these three prompts. Because of the short word limit for each response, economy of words will be key; applicants will likely want to state their topic and move right into an illustrative anecdote. If you're having difficulty deciding which stories to select, feel free to contact us for some helpful feedback.
Related articles
Need help with your essay?
Call Veritas Prep at +1-310-295-2098 or click to