Columbia Business School Hosts First Women's Week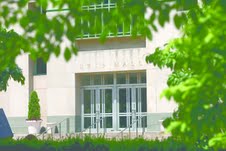 Earlier this month, Columbia Business School (CBS) hosted its first Women's Week, featuring speakers, networking opportunities and gatherings in Boston, New Delhi and Singapore, as well as on CBS's Manhattanville campus. Sallie Krawcheck '92, former CEO and chair of Citi Global Wealth Management, provided the keynote address. Women's Week, which took place from November 12th through 16th, was a joint venture of the Dean's Office, Admissions, Student Affairs and Alumni Relations.
In her address as part of the week's events, Krawcheck told assembled students and faculty that she thinks women's careers can be viewed as "lattices instead of ladders." She shared her experiences in business and offered advice for how women can advance their careers while striking a balance between work and home.
Krawcheck, who also is a member of the CBS Board of Overseers, praised the recent national election for sending a record number of women to the Senate. "Putting more women in government is a smart move," she said, citing research that has shown that compromise is more likely with women involved because they tend to focus more on long-term outcomes and relationships.
Krawcheck stressed that "women are not better than men, just different." But, she noted, diverse teams regularly best less diverse teams even when their members are less capable. Companies should be aware of the deeper differences between male and female employees – including childbirth and nursing – and look at how those differences might impact career paths. For example, women live longer, are often healthier than men, and have real potential to ramp up their careers after children are grown. "Companies should move toward flexibility without shame (for employees)," she said.
Margaret Ryan '13, president of Columbia Women in Business (CWIB), praised the participation by both male and female students in the school's inaugural Women's Week. "I think it was a wonderful way to celebrate the female community at the school while also fostering an open dialogue around the current challenges facing women in business today."
Learn more about Columbia Business School's Women's Week.