Cornell's Johnson School Holds Annual Battle of the Brands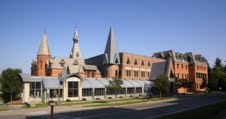 The Marketing Association at Cornell University's Samuel Curtis Johnson Graduate School of Management recently hosted its annual "Battle of the Brands," a unique two-week case competition that gives the school's marketing students an opportunity to create and execute marketing plans for real branded products. Even better, the participating students engage early with sponsoring companies, including Colgate-Palmolive, Johnson & Johnson and American Express, all of which recruit on campus.
The idea behind the Battle of the Brands is to give students an opportunity to truly understand the experience of a marketing or product manager. Each October, first-year students form teams of five with a second-year student coach. The teams are then assigned to one of the sponsoring companies and given a product to market to the Johnson School community. (Other sponsor companies this year include Mars, Reckitt Benckiser and Unilever.)
Over two weeks, the teams develop their marketing plans and execute school-wide campaigns, keeping to within a $250 budget. Creative approaches have included viral videos, contests and unique advertising, among other things. The battle culminates with the "Johnson Marketplace," a day when the entire school comes together and teams try to sell their products to the community. Attendees are given a certain number of tickets to purchase products from the teams' booths, and the teams try to control their pricing and maximize their profits.
Following the marketplace, the student teams present their campaigns and strategies to a panel of judges, who score the teams based on how well they applied core marketing concepts, including STP (Segmentation, Targeting, Positioning) and 4P (Product, Price, Promotion, Placement), as well as on their creativity, financials and presentation skills.
This year the top prize – $1,000 in American Express gift certificates – went to the Unilever-Dove team, for its marketing of the Dove for Men Shower Tool.
Learn more about the Battle of the Brands at Cornell's Johnson School.