Fridays From The Frontline
Well hello there and welcome to Fridays From the Frontline, Clear Admit's weekly look-see into the lives and adventures of b-school applicant and student bloggers. This week found many applicants preparing themselves for a second round of applications, while students chimed in on their own experiences that ranged from climbing mountains to celebrating Thanksgiving.
With Thanksgiving dinner behind him MBAOver30  looked forward to receiving decisions from his R1 schools and distracting himself with preparing his R2 application materials. Sassafrass recounted some of the productive – and less productive – ways he filled his days while waiting for R1 decisions, which included baking and picking fights. Rollipolli shared a graphic of why some might find English to be a difficult language to learn. Unclearadmit vented his disappointment at zaps from Harvard and Wharton, and outlined his plans for his second round applications.
LBS '14 Maggie struggled a bit with balancing the stresses of her studies and upcoming recruiting season, but remained committed to enjoying the MBA journey in all its ups and downs. Ross '14 Judy pushed her boundaries with fellow classmates, climbing Mt. Fuji and choreographing a dance for two. McCombs '14 Erin enjoyed the school's International Night and shared video footage of a number of Korean students dancing to a recent pop hit. INSEAD '14 Jonathan assured readers that there is quite a lot to do in your first weeks and months at INSEAD.
Kellogg '13 Briel attended a Net Impact conference in Baltimore and Kellogg's Innovating Social Change Conference. Tepper '13 Julianne shed some light on the waitlist process for classes while conveying her own recent woes. Darden '13 Constant Dardener celebrated Thanksgiving while reuniting with first year section mates.
And that's a wrap for this edition of Fridays From The Frontline. We hope those of you in the States enjoyed a wonderful Thanksgiving, and remained unscathed by any Black Friday shopping experiences. Until next week, have a wonderful weekend!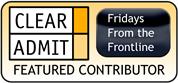 Want to join the Fridays From the Frontline community and see your blog featured regularly in this column? Just follow this link and add the FFF badge to your blog and then  email us at [email protected] with your URL so we can make sure to add you to our weekly roundups.