Stanford Graduate School of Business Admissions Official Debunks Myths Surrounding the Interview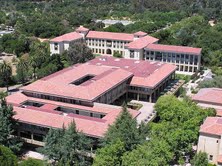 The Admissions Committee at Stanford Graduate School of Business (GSB) does not assign a specific weight to the interview in its admissions process, which means that acing the interview does not in and of itself guarantee admission, nor does having a bad interview necessarily blow your chances. This according to a recent post to the Stanford MBA Admissions Blog by Associate Director of Admissions Allison Davis. In the post, Davis debunks several key myths surrounding the admissions interview.
"There is no specific weight assigned to the interview; the interview is one part of a comprehensive process," wrote Davis. "The written application, including the essays and letters of reference, is a critical part of the evaluation process. The interview is a key source of supplemental information."
Davis also shared that receiving an interview invitation early in the round does not indicate that a candidate has a better chance of getting admitted. "The timing of your interview invitation reflects only the order in which your application was reviewed (and the order in which your application was reviewed doesn't mean anything, honest!)," she writes. Interview invitations are extended from about a week after a given round's deadline until about a week before the notification date because that's how long it takes the Admissions Committee to thoroughly review all the applications, she wrote.
Finally, applicants who live in areas where there is not an alumni interviewer should not assume that they will not have an interview. "Please rest assured that we will work with you to match you with an interviewer," she wrote. "If there is none in your area, we may ask if you'd like to fly to another location or consider a 'virtual' interview."
Read Davis' entire post on the Stanford MBA Admissions Blog.
Related articles
Preparing for your interview?
Give Veritas Prep a call at +1-310-295-2098 or click to