UC Berkeley's Haas School Sees Strong Growth in Job Offers for MBA Grads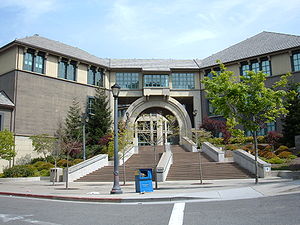 Students at the Haas School of Management at the University of California at Berkeley are finding more jobs more quickly thanks to improved economic conditions and a personalization initiative within its career services center, the school announced last month.
Almost 96 percent of the full-time Berkeley MBA class of 2012 received job offers within three months of graduation, up from 92 percent the year before. Nearly 86 percent of the 2012 class had job offers when they graduated in May, up from 76.5 for the class of 2011.
"The economy has already recovered for MBAs. It never fell as far as it did for the nation overall," Lisa Feldman, executive director of MBA Career Management, said in a statement. "I credit this improvement in offers to our fantastic Career Management team."
The Haas School's Career Management this year launched a new initiative focused on getting to know the unique needs of every single student, beginning by putting everyone's face on the wall. "That was part of a broader program to make sure we proactively provide services to every student customized to what we knew about them," Feldman explained. The Career Management staff would meet around the pictures and share stories about the students so other staff members could contribute to their job searches, she continued.
"As a result, I think more students could succeed in finding their dream jobs," Feldman said.
As in past years, employers in the consulting, technology and finance sectors offered the most jobs to Berkeley MBA students. Many students also went to work at startups, and eight graduates from the 2012 class founded their own companies.
Starting salaries and job acceptance rates also increased year over year. The average starting salary for 2012 graduates was $116,045, up 1.5 percent from a year earlier, and the mean signing bonus for the class of 2012 totaled $25,467, up from $22,344. Three months after graduation, 92.7 percent of the class of 2012 had accepted job offers, up from 90.2 percent for the class of 2011.
Learn more about MBA Career Management at the Haas School.
Related articles