Columbia Business School Launches New "Voices" Blog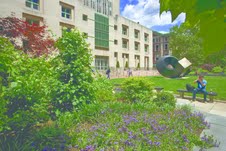 Columbia Business School (CBS) has launched a new blog designed to give prospective applicants an inside look at the school and its admissions process. Called Voices of Columbia Business School, the blog will include regular entries from the CBS admissions team, as well as from current MBA and EMBA students.
"Our goal in launching this blog…is to provide insights into the admissions process, offer any updates we may have about how the process is flowing, and, perhaps most important, offer reflections on the Columbia Business School student experience," wrote Assistant Dean of Admissions Amanda Carlson in one of the blog's inaugural posts.
In the same post, she reminded applicants that the review timeline for applications has changed slightly this year. Specifically, her team is trying to provide applicants with decisions as quickly as possible. So while they continue to review applications on a rolling basis, she and her colleagues are endeavoring to either invite candidates to interview or release their applications within six weeks of beginning the review process. Likewise, they are trying to provide students who interview with a final decision within two weeks of receiving the completed interview report. "We've been able to keep to this schedule so far this year and look forward to providing every applicant with a decision in as timely a manner as we can," Carlson wrote.
The new Voices blog features three sections, one devoted to admissions, another listing upcoming events and a third with posts detailing student life. Initial posts include an account of CBS Follies, the student-run comedy and entertainment group that puts on a show each semester, a reflection on a recent Black Business Students Association (BBSA) conference, an a recap of a fall panel series conducted by the admissions staff.
If you are considering applying to CBS, you'll want to check out this new resource for prospective applicants.
Visit the new Voices of Columbia Business School blog.
Related articles