Registration Now Open for Winter Visits to Stanford Graduate School of Business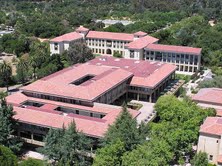 Registration is now open for winter information sessions and class visits at Stanford Graduate School of Business (GSB). In a recent post to the Stanford GSB admissions blog, Admissions blogger Victoria Hendel De La O invited prospective applicants to the MBA program to come see campus for themselves when the Class Visit Program resumes on January 14th.
Weekly information sessions will resume even sooner, on January 7th. Held each Monday and Friday, these 85-minute-long sessions feature MBA admissions officials providing an overview of the Stanford GSB MBA program and admissions process. The sessions conclude by 12:10 p.m. to allow interested parties to also take part in tours of the Knight Management Center, which depart from the Bass Center at 12:15 p.m. Registration for information sessions is required.
Interested applicants can register now for either an information session, a class visit or both. Stanford Admissions asks that only those seriously considering applying to the MBA program register for a class visit due to space constraints. Only one class visit is available per quarter, and visitors are required to stay for the full duration of the class and asked to refrain from participating in the class.
Prospective applicants visiting campus can also take part in the Meet a Student Program. Current MBA students are available most Mondays and Fridays at 10 a.m. when classes are in session. These students conduct half-hour group conversations with interested applicants, sharing their first-hand experiences at Stanford GSB. No registration is required for this offering. Interested students can check at the Bass Center at 10 a.m. to see if a student is available.
Find additional details about class visits and information sessions this winter at Stanford GSB.
Related articles