Columbia Business School Reaches Out to Prospective Applicants with New Social Media Initiatives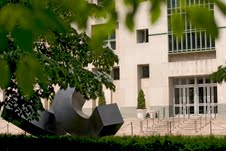 The Admissions Office at Columbia Business School (CBS) has launched a range of new social media initiatives in an effort to reach prospective applicants around the globe. In addition to maintaining an active presence on Facebook and Twitter, CBS Admissions now also features a campaign in which current students provide video testimonials describing why they love CBS, a "Tuesday Tips" video series by admissions officers and a series of Twitter chats.
"We want to offer both the student experience and insights into the admission process to social media users," wrote Admissions Officer Matthew Moll in a recent post on the new CBS Voices admissions blog. To help showcase the student experience, CBS recently ran a new I <3 CBS week, encouraging current students to share video testimonials and quotes on what the "heart" about the school. Both first- and second-year students took part, talking about their interactions with the community surrounding CBS, classroom experiences, life in New York City and more. View the collected I <3 CBS video responses on YouTube.
Moll also shared that admissions officers have been posting "Tuesday Tips" each week on Facebook, brief videos in which different members of the admissions team share their expertise on a specific part of the application process. The tips have covered a range of topics, including work experience, rolling admissions, the optional essay, letters of recommendation and more.
Finally, CBS Admissions hosts Twitter chats throughout the year, inviting Tweeters to post admissions questions and receive answers in real time. But as Moll points out, prospective applicants don't have to wait for the next Twitter chat. "Feel free to reach out to us at anytime on Facebook, Twitter or on any number of forums where we participate," he encouraged.
Related articles