Fridays From the Frontline
Welcome to Clear Admit's Fridays From The Frontline, our weekly peek into the lives of b-school bloggers. This week more students and applicants checked in and were generally a perkier bunch than last week, perhaps the result of a happily celebrated new years?
MBA Over 30 declared himself NOT a prophet, but he did have a number of 'laws' one should follow to have success in the MBA game. Sassafrass continued to mull over his two acceptances and which direction to take his b-school career. Sanket checked into the new year with a delayed GMAT exam date.
INSEAD '13 William attended a business foundations week on the Singapore campus. Chicago Booth '14 Cheetarah understood just what it was like to be trying to determine which direction to go as far as multiple acceptances, and asserted the importance of fit. Kellogg '14 Yorma shared a few highlights from their first quarter through a video montage. INSEAD '13 Patrick explained how excited he was to start his INSEAD experience and shared some insights into what it was like to seek housing in Singapore as a married couple with a new baby.

Darden '13 Adhiraj realized it had been quite some time since his last post, and focused on a few events he had enjoyed and the experience of international students on campus. Johnson '13 Ellipser celebrated the anniversary of his submitting his (ultimately successful) application to Johnson.
And that's a wrap for this week's edition of Fridays From the Frontline. We hope applicants still submitting R2 applications get a little sleep between application submission sessions, and that current students are enjoying a little time off before returning to campus in 2013.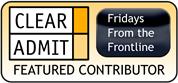 Want to join the Fridays From the Frontline community and see your blog featured regularly in this column? Just follow this link and add the FFF badge to your blog and then email us at [email protected] with your URL so we can make sure to add you to our weekly roundups.