Fridays From the Frontline
Hello and welcome to Clear Admit's Fridays From the Frontline, our weekly look-see into the liberating lives of b-school applicants and students. With most R2 deadlines behind us, it was an especially quiet week for applicants. Meanwhile, in the world of current students, things were picking up a bit, with many returning to campus after their winter/holiday breaks.
Tepper '14 reminded readers that even after being accepted in b-school you'll face additional rounds of acceptances or rejections when applying for internships. LBS '14 Ingrid wished her readers a happy new year and returned to campus after a nice break. INSEAD '13 Mike blogged while on a plane to Singapore, reflecting on the events that led to his looming start at the school. Anderson '14 Kyle happily returned to Anderson's campus and outlined the things he is "super excited" to enjoy in the coming months.
INSEAD '13 Stefanie conveyed three quick tips to individuals interested in attending INSEAD. Johnson '13 Ellipser reminded those on the waitlist to 'calm down' and provided some additional words of wisdom to those in that b-school limbo space. Kellogg '13 Amanda recapped the Kellogg Cares' fall quarter activities.
And that's a wrap for this installment of Fridays From the Frontline. If you're a current applicant, or are beginning to think about applying, be sure to let us know if you start blogging! We hope that the new year continues to treat all our readers well. Until next week, have a wonderful weekend.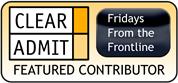 Want to join the Fridays From the Frontline community and see your blog featured regularly in this column? Just follow this link and add the FFF badge to your blog and then  email us at [email protected] with your URL so we can make sure to add you to our weekly roundups.