Fridays From The Frontline
Hello there, and welcome to Fridays From The Frontline, Clear Admit's weekly blog post covering the latest news and events of the b-school blogopshere. This week current applicants were mainly focused on making tough decisions while students' posts ran the gamut of topics, from apartment searches to consulting challenges.

MBA Over 30  planned on attending Chicago Booth and Wharton's admitted student weekends, but still didn't know which program would come out on top. Sassafrass also had two acceptances to consider and attended a Yale event that left him quite impressed. Sanket found a set of Kenan Flagler videos quite helpful. Unclearadmit celebrated New Year's Eve with his considerable extended family and was on the precipice of becoming an official Tuckie. Amit created an app that can help individuals time themselves during their GMAT prep.
LBS '14 Maggie took a moment to look back on her MBA journey and shared a few different pieces of information about the MBA application process as a whole. Kellogg '14 Yorma gave readers insight into what a 'typical' week at Kellogg can look like.  Ross '14 Judy described different facets of the school for which she was most grateful. McCombs '14 Dan advised newly accepted students not to rush into a long-term lease, and instead to take a bit of time to get to know their new school's environment before choosing a neighborhood. INSEAD '13 Guillaume sought a richer life.
Johnson '13 Ellipser provided a few pointers on how to approach current students with questions. Anderson '13 Melanie participated in the 8th annual Net Impact Consulting Challenge.
And that's a wrap for this week. We hope all students are getting back into the swing of their new semesters, and that applicants are getting a little rest before turning their attentions to Round 3 or deposits. Until next week, have a great weekend!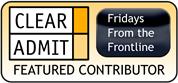 Want to join the Fridays From the Frontline community and see your blog featured regularly in this column? Just follow this link and add the FFF badge to your blog and then  email us at [email protected] with your URL so we can make sure to add you to our weekly roundups.