UNC's Kenan-Flagler Business School Partners with Chinese University to Launch Dual-Degree EMBA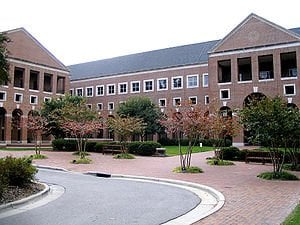 The University of North Carolina's Kenan-Flagler Business School will partner with Tsinghua University in China to offer a dual-degree Executive MBA (EMBA) program combining business and engineering, the school announced this week.
Called the Global Supply Chain Leaders Program, the new offering is targeted toward Chinese executives seeking to enhance both their leadership skills and technical knowledge. Those who complete the program will receive an MBA from UNC and a master of engineering management (MEM) from Tsinghua's Department of Industrial Engineering.
Twenty-four executives from state-owned enterprises and private companies in 15 cities will comprise the program's first class, which will begin in October. Two-thirds of the classes will be taught at UNC and the remainder will be taught in Beijing. In China, classes will meet once a month from Friday to Sunday. In the United States, participants will attend two, 16-day sessions at UNC. The program will also feature global residencies in the United Arab Emirates, the Netherlands, and the United States. Tuition for the 20-month program will be $60,000 plus residency costs.
Though Tsinghua University works jointly with several other top business schools, including MIT Sloan, Harvard Business School and INSEAD, Kenan-Flagler considers this new program to be the first of its kind between a top Chinese industrial engineering department and a top U.S. business school.
"We are developing a deeper understanding of how business is conducted in each other's country, and our universities, our citizens and our economies will benefit from our work together," Kenan-Flagler Dean James W. Dean, Jr. said in a statement.
Learn more about the new dual-degree EMBA offered by UNC and Tsinghua University.