Fridays From the Frontline
Hello and welcome to Fridays From the Frontline, Clear Admit's weekly blog post committed to unearthing the latest news and goings-on in the b-school blogosphere. This week applicants were a quiet bunch, while students were more vocal about their latest activities and adventures.
MBA Over 30 attended an action packed welcome weekend at Wharton and thoroughly enjoyed himself. Sassafrass elaborated on his reasons for ultimately choosing to join Yale's community this coming fall.
Tuck '14 The Senator conversed with fellow Tuckies on what it means to "manage your brand." Chicago Booth '14 Cheetarah was so excited about an internship offer she literally told the recruiter to "shut up." LBS '14 Maggie compared and contrasted her home city of Beijing with London after a walk in Regent's Park. Ross '14 Aaron was in a celebratory mood now that his MAP assignment had come in and Dublin was declared his destination. Anderson '14 Kyle participated in a sports charity event.

INSEAD '13 William discussed the school's exit language requirement and his preparations for meeting it. Kenan Flagler '13 Kate made good on her promise to herself to study abroad during b-school, writing her latest post from Thailand. INSEAD '13 Lauren was in Singapore for her third period and was excited to begin taking elective courses.
And that's all they wrote for this week's edition of Fridays From the Frontlines. We hope that those in the U.S. are properly preparing for the upcoming snow storm that should be impacting the eastern seaboard in the coming days. And for those of you in warmer climes, we hope you're taking full advantage of your enviable temperatures. Until next week, have a great weekend!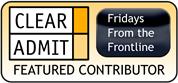 Want to join the Fridays From the Frontline community and see your blog featured regularly in this column? Just follow this link and add the FFF badge to your blog and then  email us at [email protected] with your URL so we can make sure to add you to our weekly roundups.