Fridays From the Frontline
Hello and welcome to Fridays From the Frontline, Clear Admit's weekly investigatory wander through the b-school blogosphere. This week applicants reflected on their recent triumphs and the choices they made to receive acceptances, while students discussed their weekend plans and coursework.
Unclearadmit received another acceptance, this time from Johnson, but admitted that unless serious scholarship funds came his way, Tuck was still his intended destination. Sassafrass shared his take on the best way to approach and write a number of MBA essays.
Tepper '14 CCatcher struggled to stay afloat between the expectations of coursework and a continued search for a summer internship. Tuck '14 The Senator looked forward to a ski weekend with friends from the African Ancestry Business Association. Chicago Booth '14 Cheetarah reflected on her three b-school interviews … we hope that she shared those experiences with Clear Admit's Interview Archive. INSEAD '14 Shereen outlined her frequent travels as she prepared for yet another move.
McCombs '13 Courtney described her team's recent win at the UNC National Real Estate Development Challenge as her most rewarding moment of her MBA experience. Harvard '13 Parker checked in after quite a lengthy silence and reported on her first semester's courses. Ross '13 Eric enjoyed this year's follies event and celebrations for the Chinese Lunar New Year. McCombs '13 Erin reported some of the differences she already noticed during her semester abroad, which included far more walking and far less driving.
And that's a wrap for this edition of Fridays From the Frontlines. We hope that all students and applicants continue to check in even as their hands cramp from winter's continued unfurling in the northern hemisphere. Until next week, have a great weekend!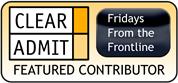 Want to join the Fridays From the Frontline community and see your blog featured regularly in this column? Just follow this link and add the FFF badge to your blog and then  email us at [email protected] with your URL so we can make sure to add you to our weekly roundups.