Plagiarized Admissions Essays Doom MBA Applicants at Top Schools, Again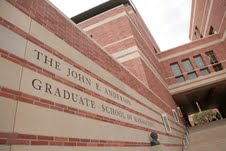 Fifteen prospective applicants to UCLA's Anderson School of Management and another 48 at Penn State's Smeal College of Business got dinged when a plagiarism-spotting service revealed that portions of their admissions essays had been lifted from other sources, Bloomberg BusinessWeek reports today. The schools say those numbers are likely to grow in subsequent admissions rounds.
Both Smeal and Anderson use a service called Turnitin for Admissions, which checks admissions essays against a database of published and unpublished sources and flags similarities. In total, about 15 schools use Turnitin, according to company spokesman Chris Harrick, but only four have publically disclosed that fact. (Northeastern's D'Amore-McKim School of Business and Wake Forest Schools of Business also make their use of Turnitin public, though no applicants have been rejected for plagiarism at either school so far this year, Bloomberg BW reports.)
Last year, Anderson rejected 52 applicants for plagiarism as part of the first two rounds. Andrew Ainslie, senior associate dean for the full-time MBA program, told Bloomberg BW that he expects that as many as 70 applicants may be rejected for plagiarism this year by the end of the third and final round.
According to Craig Hubbell, director of operations for MBA admissions at Anderson, most of the applicants who have been discovered plagiarizing this year borrowed passages from essay websites, although some were brazen – or stupid – enough to lift from Bloomberg BW and even Anderson's own website.
According to the Bloomberg BW report, Anderson doesn't disclose its use of Turnitin to applicants. And it only rejects students whose essays include a significant amount of poached text. "If somebody uses a famous quote in an essay, we're not going to highlight it," Ainslie told Bloomberg BW. "When it does occur, it's because they took a big chunk." Like one applicant last year who lifted 85 percent of an essay and failed to change the gender of the pronouns, Hubbell gave as an example to Bloomberg BW.
Read the complete Bloomberg BW article, "Dozens of Applicants Tossed over Plagiarism."