University of Chicago Booth School of Business Uses Technology to Connect Campuses around the Globe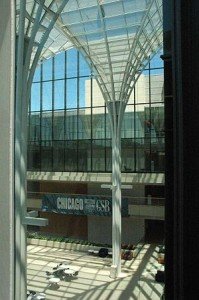 Last month, the University of Chicago Booth School of Business debuted a new telepresence technology it hopes will help establish a "new global connectivity" between faculty and students at the school's main Chicago campus and those in other locations around the globe, such as London and Singapore.
The technology – enhanced videoconferencing featuring superior sight and sound fidelity – enabled Chicago Booth Professor of Economics Kevin Murphy to deliver a one-hour lecture on the importance of human capital to economic growth to Executive MBA students in main lecture auditorium at Chicago Booth's London campus. Inaugurating the new technology, Murphy delivered his lecture live from a studio in the Harper Center, which houses the full-time MBA program in Chicago, while students in London used desk-mounted microphones to ask questions and interact with the professor. Murphy, for his part, could control three cameras stationed in the London auditorium, directing them on the questioner and other students in the classroom.
Robert Gertner, deputy dean for Chicago Booth's Part-Time Program, said that the technology is intended to connect Booth's global campuses by allowing all faculty members to reach students across all the locations.
"I think it accomplished the goal," Gertner said after the lecture. "It was a way more interactive experience than listening to a web version of a presentation. The live nature makes it easier to absorb the material, and the ability to ask questions makes it closer to being live than watching a webcast. It will only get better as people get better at using it."
Going forward, Chicago Booth will use the telepresence technology to broadcast sessions with other faculty and guest speakers from the Harper studio, as well as to conduct remote review sessions before exams.
"This was the first use of a technology that is designed not to be a substitute for faculty being here, but as a complement and a way for us to bring more of the faculty to the students who are not in Chicago," Gertner said.
Learn more about Chicago Booth's new telepresence technology.
Related articles