Fridays From the Frontline
Hello there and welcome to Fridays From the Frontline, Clear Admit's weekly perusal of the exciting endeavors of those in the b-school blogosphere. This week continued to find the applicant perspective a rather quiet one, while current students were sharing a bit more information and experience as they continued into the month of March.
Sassafrass discussed the messiness of diversity. If you're about to start your application process and plan on blogging about it, feel free to get in touch with us so we can include you in the aspirant round up!
Kellogg '14 Amanda attended the school's marketing conference and shared some of its highlights. Tuck '14 The Senator felt time was moving quickly and shared his summer plans. Chicago Booth '14  Cheetarah also couldn't believe that it had been a year since she attended an accepted students event on campus, and now here she was thinking about summer internships! Oxford '14 Sabre continued the trend, "shuddering" to think that she was already half way through her program and discussing the variety of impact investment activities and competitions in which she had already taken part. INSEAD '13 William joined the school's entrepreneurship boot camp. Anderson '14 Chris was pumped that the school's soccer team won a recent competition in Austin.
Continuing a theme, Johnson '13 Ellipser was also in thrall to how quickly b-school can go by, seeing graduation looming ahead of him. McCombs '13 Dan had a few choice pieces of advice on how to save money while living in Austin as an MBA student.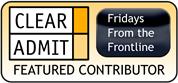 Want to join the Fridays From the Frontline community and see your blog featured regularly in this column? Just follow this link and add the FFF badge to your blog and then  email us at [email protected] with your URL so we can make sure to add you to our weekly roundups.