Fridays From the Frontline
Hello there and welcome to Fridays From the Frontline, Clear Admit's weekly  blog post featuring the latest in the lives of b-school bloggers. With spring around the corner and many applicants all done with their respective school submissions, it was another week with more reports from the current student body.

MBAOver30 elaborated on the reasons that drew him to ultimately decide upon joining Wharton's Class of 2015.
Anderson '14 Kyle happily volunteered to get involved in an Anderson Preview Day, as he had been able attend one as an applicant. Manchester '14 Manchester MBA participated in a business plan competition and came in second.  LBS '14 Maggie reflected on a Steve Jobs quote, noting that without an MBA she might not have found her true professional passion.
Johnson '13 Ellipser enjoyed a relatively calm day by participating in a range on conversations with first and second-year students. Darden '13 The Constant Dardener knew he would remember his chosen electives fondly years after his graduation. Anderson '13 Melanie reported the results of the school's recent Net Impact Consulting Challenge event.
And that's a wrap for this week's Fridays From the Frontline. Hopefully all bloggers and readers alike are enjoying the extra hour of daylight bestowed upon us through Daylight's Savings Time. Until next week, have a great weekend!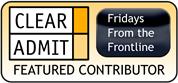 Want to join the Fridays From the Frontline community and see your blog featured regularly in this column? Just follow this link and add the FFF badge to your blog and then  email us at [email protected] with your URL so we can make sure to add you to our weekly roundups.