New Details Emerge About Group Interviews at UMichigan's Ross School of Business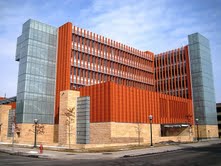 As reported here in January, the Ross School of Business at the University of Michigan plans to officially launch team-based interviews as part of its MBA admissions process in 2014, following Wharton's lead. An article this week in Bloomberg BusinessWeek sheds some light on the approach Ross is taking, as evidenced through pilot efforts the admissions team conducted with roughly 110 applicants in Beijing, Shanghai and Ann Arbor this past admissions season.
Like Wharton, Ross is seeking to assess how applicants interact with one another through the new team-based exercises. The format the Michigan school is using, however, differs from Wharton's, in which candidates are sent a question in advance and then grouped with other applicants to present a team solution. At Ross, the pilot exercises held in January and February involved applicants first approaching a task individually and then as a group, according to the Bloomberg BW report.
The Ross applicants – in groups of four to six – were first given 10 minutes to prepare individual presentations connecting two random words in any way they chose. Next, the group was given a set of random words and 20 minutes to use the words to address a problem and solution as a team.
"Different things come out in a group interview," Soojin Kwon, Ross director of admissions, told Bloomberg BW. "It creates a more complete picture of what the applicant will be like in a classroom and in our community." Random words were used to prevent applicants from preparing in advance, Kwon added.
To test the new format, some of the applicants invited for the traditional one-on-one interview were encouraged to participate in the group exercise, though their performance would not be part of their application evaluation, the Ross admission committee told them. Kwon told Bloomberg BW that she hopes to implement the team-based interview more broadly next year, but that the logistics of how to bring together interviewees and evaluators may make it hard to use with all applicants. Evaluators for the pilot group interviews at Ross were alumni and second-year students.
Read the complete Bloomberg BusinessWeek article, "Ross to Use Team-Based Interviews for MBA Admissions."