Trivia Tuesday: Student Consulting at Duke / Fuqua
Welcome to another edition of Trivia Tuesday, where we highlight the special offerings of leading MBA programs. Today we're taking a look at MBA students' consulting opportunities at Duke's Fuqua School of Business, as featured in the Clear Admit Guide to Fuqua.
"Students interested in gaining real-world consulting experience may take advantage of several experiential learning opportunities in the Fuqua curriculum.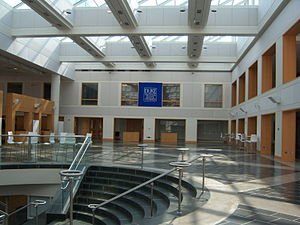 "The three-credit Practicum in Small Business Consulting, an elective in the Management Communications Department, pairs teams of first- and second-year Fuqua students with local companies and non-profits that do not have the resources to perform or pay for the type of projects undertaken by the students. The projects span three terms, beginning in Fall 2 when teams meet with their selected clients to establish the guidelines and expectations for the project. The bulk of the research and analysis takes place during Spring 1 and 2. Teams conclude the year with a written report and final presentation to the client.
"Second-year students looking to take on a larger consulting project are invited to enroll in the six-credit Strategic Planning Practicum offered by the Strategy Department. During the practicum, teams of four or five students partner with a mid-sized company (one with revenues between $5 million and $500 million) to create a strategic business plan that is presented to the senior management of the partner firm. The course takes place during Fall 2 and Spring 1; throughout that time period, each student is expected to devote a significant portion of each week to research and analysis, including interviews with employees, detailed financial analyses of the company, and an examination of the firm's strengths, weaknesses, opportunities and threats. The project is designed to help students improve their interview, presentation and teamwork skills while gaining a better understanding of the interplay of key areas of management in a mid-sized business."
For more details about hands-on learning opportunities at Fuqua, be sure to check out the Clear Admit School Guide to Fuqua!  All Clear Admit School Guides are available for immediate purchase and download on the Clear Admit shop.
You could win a Clear Admit Guide!  Based on today's post, we'll be running a trivia contest on Twitter.  Be sure to follow us and play for your chance to win!
Related articles