Trivia Tuesday: Cornell Johnson's Cayuga MBA Fund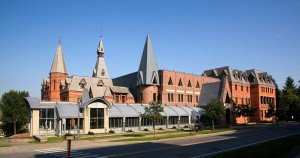 It's time for Trivia Tuesday, our weekly exploration of the components that differentiate leading MBA programs from their peers. Today, we're taking a look into the Clear Admit Guide to the S.C. Johnson Graduate School of Management to explore Johnson's Cayuga MBA Fund.
"Established in 1998 with an initial investment of $600,000, the Cayuga MBA Fund is a long-short, market-neutral hedge fund whose investments are largely directed by second-year student managers from Johnson. The fund prides itself on the high degree of autonomy its students have in the decision-making process, on the access students have to equipment that rivals that in use on Wall Street and on its own strong performance in recent years. The Cayuga fund currently has nearly $12 million in funds under management.
"The fund's roughly 20 student portfolio managers, chosen at the end of their first year via a rigorous application process, are all required to enroll in the second-year course Applied Portfolio Management, in which each manager researches and presents an investment proposal that will influence the fund's future direction. The students are also expected to deliver an annual shareholder presentation on the state of the fund. Though the student managers have a high degree of au­tonomy, faculty members and investment practitioners advise them on investment decisions and other problems that arise in maintaining a diverse portfolio.
"First-year students who are interested in participating in Ca­yuga MBA Fund activities have several formal opportunities to do so. By applying for a sector analyst position with the fund, students in their first semester at Johnson can help manage its activities under the watch of the portfolio managers and faculty, but cannot earn course credit for their efforts. In the second semester, however, first-years can enroll in the for-credit elective Capital Markets and Asset Management, which is structured as an immersion program in which students are given a chance to manage parts of the fund under supervi­sion."
To read more about Johnson, as well as to obtain in-depth curriculum information, be sure to check out the Clear Admit Guide to the S.C. Johnson Graduate School of Management.  All Clear Admit School Guides are available for immediate purchase and download on the Clear Admit shop.
You could win a Clear Admit Guide!  Based on today's post, we'll be running a trivia contest on Twitter.  Be sure to follow us and play for your chance to win!
Related articles