Trivia Tuesday: Kellogg's International Business and Markets Program
In this week's installment of Trivia Tuesday, we turn our focus to the Clear Admit School Guide to Northwestern / Kellogg to learn about the school's International Business & Markets Program.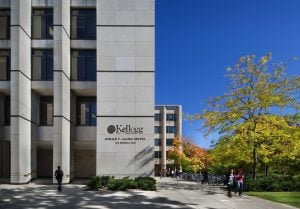 "Kellogg's international programs are coordinated by the Inter­national Business & Markets Program (IBMP). The academic core of the IBMP is the International Business major, which fo­cuses on imparting the specialized tools and knowledge need­ed to lead an international firm. Areas of instruction include international marketing, accounting, finance and healthcare, as well as cross-cultural negotiation, international manage­ment strategies and doing business in emerging economies.
"In addition to the International Business major, the IBMP also runs the Global Initiatives in Management (GIM) course, one of Kellogg's most popular electives. Over 400 Kellogg students enroll in the course each year, usually during the winter or summer quarters. Each GIM section of 35 students chooses a country of focus, and each student chooses a target industry or economic sector to study, taking on various leader­ship roles within their teams. Recent courses have focused on countries worldwide, including China, Ecuador, Germany Japan and South Africa, with students studying industries ranging from e-commerce and pharmaceuticals to ecotourism and microenterprise.
"The class then works with a faculty advisor to plan the nine-week curriculum, invite relevant guest speakers from the country and from campus, and organize an intensive two-week study trip to the country at the end of the quarter. During the study trip, students meet with business and gov­ernment leaders, meet Kellogg alumni in the region, immerse themselves in the local language and culture, and conduct research on their target industry in preparation for a final presentation. Kellogg views the program as a cornerstone of its efforts to build students' awareness of the global business environment.
"Kellogg currently offers 13 GIM trips to 15 countries; over 400 MBA students embark on one of these trips each year. In the past, students have traveled to such countries as France, Argentina, Peru, Australia, Botswana, Ecuador, Poland, Côte d'Ivoire, Uganda, Thailand and many others. Past GIM proj­ects have focused on e-commerce initiatives in Thailand, eco­tourism in Costa Rica, the wine export industry in Chile and alternative energy in Russia."
To read more about the offerings at Kellogg, be sure to check out the Clear Admit School Guide to Northwestern / Kellogg. All Clear Admit School Guides are available for immediate purchase and download on the Clear Admit shop.
You could win a Clear Admit Guide!  Based on today's post, we'll be running a trivia contest on Twitter.  Be sure to follow us and play for your chance to win!
Related articles
Related articles