Admissions Director Q&A : Philippe Oster of HEC Paris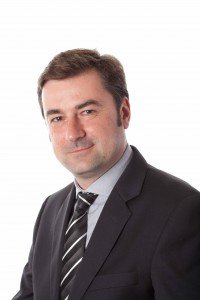 Our continuing series of interviews with admissions directors at top business schools takes us this week to France, where we connected with Philippe Oster. Oster is the director of communication, development and admissions at HEC Paris. In this role, he is charged with directing and coordinating the activities of all three departments, including ensuring the quality and integrity of the admissions process and attracting the best candidates to HEC from an international pool of MBA applicants.
Before stepping into his current role at HEC Paris in 2009, Oster served as the head of international admissions for the education division of the Paris Chamber of Commerce and Industry. There he had oversight of international student recruitment for France's five top business schools, HEC Paris, ESCP Europe, EMLYON, Audencia and Skema.
In the interview that follows, Oster shares details about an exciting new dual degree program in international finance that the school plans to offer beginning next fall. He also highlights the benefits of the small class size at HEC Paris (just 200 students) and its focus on leadership development.
Finally, he offers some very candid advice to prospective MBA applicants. In particular, he believes that those who carefully and thoroughly research leading MBA programs should find no more than three that precisely meet both their professional goals and personal mindset. If HEC Paris is one, the key to gaining admission is being able to demonstrate this fit ably and concisely when you apply.
Clear Admit: What's the single most exciting development, change or event happening at HEC Paris this coming year?
Philippe Oster: We are very excited to be launching a new MBA-MSc in International Finance (MIF) Dual Degree program, which will start in September 2015. This innovative program is aimed at attracting young talented professionals interested in a career in finance or consulting.
The program's unique curriculum offers the best of both worlds—solid management education and leadership skills from a leading MBA program as well as advanced technical knowledge and quantitative skills from the best Master in Finance in the world (as ranked by the Financial Times).
The integrated approach (MBA and MIF courses switch off every term) will also allow participants to have two sets of unique networks. Ultimately, participating students will be able to fast-track to senior management positions in finance and consulting.
HEC Paris is recognized for its complete array of management programs ranging from pre-experience to C-level management and is excited to adapt to new market demands by innovating its educational offering.
CA: What is the one area of your program that you wish applicants knew more about?
PO: Our MBA class size of 200 allows our students to directly benefit from our leadership development activities. We have indeed developed a very specific approach to leadership acquisition. Our "Learning-by-doing" style puts our students in leadership roles that have a "real-world" impact and include our annual student managed MBA tournament (MBAT) and Off-Campus St-Cyr Leadership Seminar.
For example, with MBAT, our students fully run the three-day sporting event that brings in 1500+ MBA students from the top business school worldwide, including organizing logistics, finding sponsors and managing a substantial budget.
Students also have the opportunity to participate in our TEC (The Executive Committee) on-campus program. This special program allows a small group of participants to discuss crucial personal issues and professional objectives with their peers, a senior coach and several CEO speakers in an intimate setting.
For example, students could discuss with CEOs how they have dealt with ethical issues or dealt with work/life balance. Due to the sensitive nature of discussed issues, all discussions remain confidential.
CA: Walk us through the life of an application in your office from an operational standpoint. What happens between the time an applicant clicks "submit" and the time the committee offers a final decision (e.g. how many "reads" does it get, how  long is each "read", who reads it, does the committee convene to discuss it as a group, etc.)
PO: Because there is no time to lose (for either us or the candidate), candidates are strongly encouraged to fill out an "HEC Online Candidate Profile" before the application process even begins. Applicants can submit a brief set of information (shorter than the real application) and receive immediate feedback on their profile, thus allowing them to know if they are the right fit for the program and if they should continue on with their application. Once they apply, there are 12 deadlines for applicants to choose from throughout the year.
After the candidate submits his or her application, it is then carefully read and analyzed. The candidate's entire profile is evaluated, and then qualified individuals are invited to attend a series of interviews with HEC Paris MBA alumni.
The candidate will then be notified of the decision soon thereafter. This entire process, starting from when the applicant submits an application to when he or she is notified of admission, lasts five weeks. It's a fast and efficient process for both us and the applicant.
While there is a team of people who evaluate the applications, there is also one individual who reads over all the applications. This system is put in place to reduce evaluation bias. Additionally, as HEC Paris is accredited by the French Ministry of Education, there is a process in place that doesn't allow for certain quotas by region or profile type, thus allowing for a fair balanced process. The best candidates will be admitted based on achievement and achievement alone.
CA: How does your team approach the essay portion of the application specifically? What are you looking for as you read the essays? Are there common mistakes that applicants should try to avoid? One key thing they should keep in mind as they sit down to write them?
PO: The essay portion of the application is very important in our admissions process. It allows us to gain a deeper insight into applicants' motivation for doing an MBA and how an MBA at HEC Paris will help them accomplish their future career goals.
Writing a good essay involves being prepared and doing your homework. Applying to a lot of the top global MBA programs blindly without looking at fit is a huge mistake. We are looking for applicants who have made the conscience decision of choosing HEC Paris, and they need to clearly be able to express this sentiment in their application.
Therefore, here is my advice to MBA candidates:
Target the top 25 MBAs worldwide. A guarantee for:

top academic quality and cutting edge infrastructures
selectivity and diversity of the student body (HEC: 200 class size and 50 nationalities)
efficient career services and powerful alumni network (HEC: 50,000 alumni worldwide)

Within this top 25 worldwide, there should be no more than three schools that will meet both your professional objectives and your personal mindset.
Don't always listen to people like me. You have to take what admissions officials say with a grain of salt. Instead, talk with alumni and current students. Listen to the people who have experienced the program themselves and have taken the risk of leaving their job to challenge their professional lives.
Within the essay itself, we are looking for 5 Cs:
Content: Tell us tangible, interesting things about you.
Correctness: Use proper grammar, spelling and punctuation. Proofread; show that you take the HEC Paris Admissions process seriously.
Clarity: Avoid any ambiguity in what you write.
Conciseness: Don't write too little or too much. Express ideas in the most efficient way possible.
Coherence: We understand it is important to sell yourself in your application. However, it is more important to remain true to yourself and your achievements. Be accurate and don't exaggerate too much (we double check). We know that the perfect candidate does not exist.
After you figure these out, your motivation for the program will naturally show in your essays!
About the Author