Top #MBA Tweets of the Week: #Competitions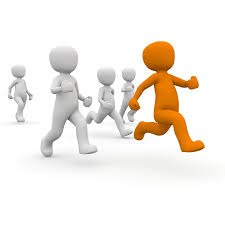 While the competition during admissions can feel intense, MBA programs run competitions as a means of challenging and educating their students; as we see in this edition of Top #MBA Tweets of the Week, business school students have been busy trying to reach the top—and learn along the way.
We lead off with lessons from victors at Cornell / Johnson:
"Leadership Lessons Helped Us Win @DeloitteUS's National Case Competition" from Zoelle Mallenbaum (MBA '18): https://t.co/vVYGylDC5k pic.twitter.com/oqYtOac670

— Johnson at Cornell (@CornellMBA) April 17, 2017
Harvard Business School showed how a competition can be constructive…
One of the benefits of the New Venture Competition is feedback from this accomplished list of judges https://t.co/t5KWaBkTXA #HBSNVC

— Harvard Business (@HarvardHBS) April 18, 2017
…while students from HEC Paris made a good showing in HBS's Global Case Competition:
Team Modigliani 2.0 from @HECParis at the finals of @Harvard Global Case Competition https://t.co/VKyHsnIFYL #TheHECExperience pic.twitter.com/JOPnZTV3Nk

— HEC Paris Masters (@HECParisMasters) April 19, 2017
HEC Paris MBA took second place in the competition! https://t.co/ceLFzLCOBW

— HEC Paris MBA (@HECParisMBA) April 17, 2017
As evident at Oxford SBS, competitions are an integral part of the learning experience:
Students compete in the Rothschild Global Advisory Challenge as part of the Oxford Saïd Finance Lab. https://t.co/t4uqosQnSQ

— Saïd Business School (@OxfordSBS) April 14, 2017
Columbia Business School and UCLA / Anderson had a couple of winners to announce:
Congratulations Unbound, winners of #ColumbiaVentureCompetition #startupcolumbia track. https://t.co/lyNLgBOELi

— Columbia Eship (@ColumbiaEship) April 15, 2017
Kudos to @uclafemba Thomas Crutchley'19, Keenan Long'19, Doug Paulus'19 winning Game Day Sports Case Competition https://t.co/RgYEcjWJEt

— UCLA Anderson (@uclaanderson) April 19, 2017
And Morgan Stanley took time to spread the word on their Sustainable Investing Challenge, which a team from Northwestern / Kellogg won:
@ClearAdmit looks at winner of the 2017 @KelloggSchool – MorganStanley #Sustainable Investing Challenge – EduIndia https://t.co/AMTHiv8MpP

— Morgan Stanley (@MorganStanley) April 18, 2017
While London Business School may win for the tastiest recognition:
#Foodie alert: LBS's pastry chef Stuart Tarff wins a competition with his culinary delights https://t.co/EcYHgpIqSy pic.twitter.com/vt4q29yFPn

— LondonBusinessSchool (@LBS) April 16, 2017
Students at UVA / Darden are prepping for a different upcoming competition:
Good luck to our team of Darden #MBA students who are competing in the 2017 @patagonia case competition next week! https://t.co/IQPM6gjNXQ

— Darden School at UVA (@DardenMBA) April 14, 2017
Have you seen "re-tweetable" tweets in your feed this week? E-mail [email protected] with your recommendations for what breaking MBA news we should cover next.