HBS Recommendation Questions 2017-2018

The 2017-2018 HBS MBA recommendation questions are up on the Harvard Business School admissions website. The HBS recommendation questions comprise of identifying information about the recommender, a brief explanation of the recommender's relationship with the applicant, and a question about how many HBS MBA applicants the recommender is supporting this year, followed by a grid on which the recommender is asked to rate the applicant on a series of skills and qualities.
2017-2018 HBS Recommendation Questions
Context of Relationship:
Current employer
Previous employer
University/academic
Extracurricular/community
Other
Are you an HBS graduate?
If yes, please list year of graduation:
Please provide a brief description of your interaction with the applicant and, if applicable, their role in your organization:
Number of applicants you are recommending to the HBS MBA Program this year:
Recommendation
See the grid on which HBS asks recommenders to rate the applicant's interpersonal, communication, leadership, and academic skills using the following scale: No Information, Area of Concern, Opportunity for Development, Solid/Meets Expectations, Relative Strength/Exceeds Expectations.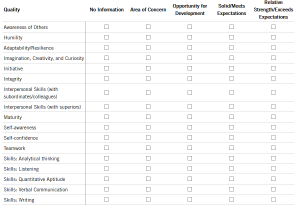 Traits and Skills:
Awareness of Others
Humility
Adaptability/Resilience
Imagination, Creativity, and Curiosity
Initiative
Integrity
Interpersonal Skills (with subordinates/colleagues)
Interpersonal Skills (with superiors)
Maturity
Self-awareness
Self-confidence
Teamwork
Skills: Analytical thinking
Skills: Listening
Skills: Quantitative Aptitude
Skills: Verbal Communication
Skills: Writing
Please feel free to comment on the ratings you have assigned:
Recommendation Upload
Finally, HBS poses two questions to be answered in a separate document and uploaded to the online recommendation:
Please respond to both questions below in a single document.
1. How do the applicant's performance, potential, background, or personal qualities compare to those of other well-qualified individuals in similar roles? Please provide specific examples. (Recommended: 300 words)
2. Please describe the most important piece of constructive feedback you have given the applicant. Please detail the circumstances and the applicant's response. (Recommended: 250 words)
Want advice on your recommendation strategy? Call Veritas Prep at +1-310-295-2098 or click to