President Donald Trump got elected—in part—because he represented a break from traditional Washington politics that had left many frustrated and disillusioned. A businessman who'd made billions in real estate, he prided himself on being able to close deals.
He quickly set out to surround himself with business-minded folks like himself, establishing the Strategy & Policy Forum and Manufacturing Council soon after taking office. These two groups drew together dozens of prominent CEOs to advise him on a range of issues in his new role.
Twenty-four preeminent heads of manufacturing—including companies as varied as Intel, Under Armour, Merck, Johnson & Johnson, and Campbell's Soup—met with Trump in February to discuss manufacturing issues. Many continued to stand with Trump even as he increasingly took controversial positions on issues like immigration and the Paris climate accord—challenging some council members' personal beliefs, business objectives, or both.
But it took Charlottesville—or, more specifically, Trump's response in which he suggested that white nationalist hate groups and the anti-racism and anti-fascism protesters who opposed them were equally to blame—for the business leaders to finally state clearly and en masse that they were no longer standing with Trump.
The First Domino to Fall
Merck CEO Kenneth C. Frazier, the only African-American on the manufacturing council, resigned on Monday, stating, "America's leaders must honor our fundamental values by clearly rejecting expressions of hatred, bigotry, and group supremacy, which run counter to the American ideal that all people are created equal. As CEO of Merck, and as a matter of personal conscience, I feel a responsibility to take a stand against intolerance and extremism."
Following Frazier's lead, seven other manufacturing council members also resigned over the next two days: Brian Krzanich of Intel, Kevin Plank of Under Armour, Scott Paul of the Alliance for American Manufacturing, Richard Trumka and Thea Lee of the AFL-CIO, Inge Thulin of 3M, and Denise Morrison of Campbell Soup.
Meanwhile, the Business & Strategy Forum, a second strategic council assembled by Trump and made up of some of the nation's most powerful corporate giants, today reached a decision to disband. "The thinking was it was important to do as a group," a member of the advisory council told CNBC. "As a panel, not as individuals because it would have more significant impact. It makes a central point that it's not going to go forward. It's done."
According to the CNBC report, the council member said that the decision to dissolve the council was in order to "condemn" the president's comments about the Charlottesville violence. Employees and customers have also made their views clear to the advisory council members. "There really was nothing to debate," the member told CNBC.
The strategic forum, distinct from the manufacturing council, was led by Blackstone CEO Steve Schwarzman and included more than a dozen prominent CEOs, among them General Motor's Mary Barra, JPMorgan's Jamie Dimon, BlackRock's Larry Fink, Boston Consulting Group's Rich Lesser, Wal-Mart's Doug McMillon, PepsiCo's Indra Nooyi, and IBM's Ginni Rometty.
The strategic forum released an official statement, after the disbandment had already been announced by several news outlets, that its members and the president jointly reached the decision to disband.
Trump then took to Twitter to say that he was ending both councils. "Rather than putting pressure on the businesspeople of the Manufacturing Council & Strategy & Policy Forum, I am ending both. Thank you all!" read his 1:14 p.m. tweet.


Business School Professors, Deans Take Note
Not surprisingly, business school professors are already weighing in. Professor Aaron Chatterji of Duke's Fuqua School of Business studies CEO activism, among other things. On Monday, when only Frazier had resigned, he shared the following on his LinkedIn page: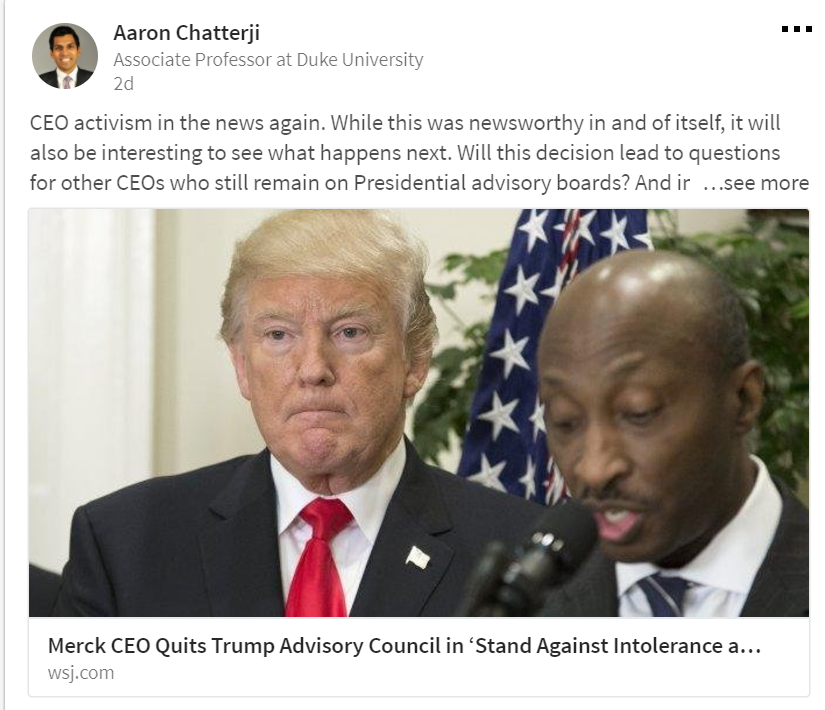 In a follow-up post yesterday, he wrote this: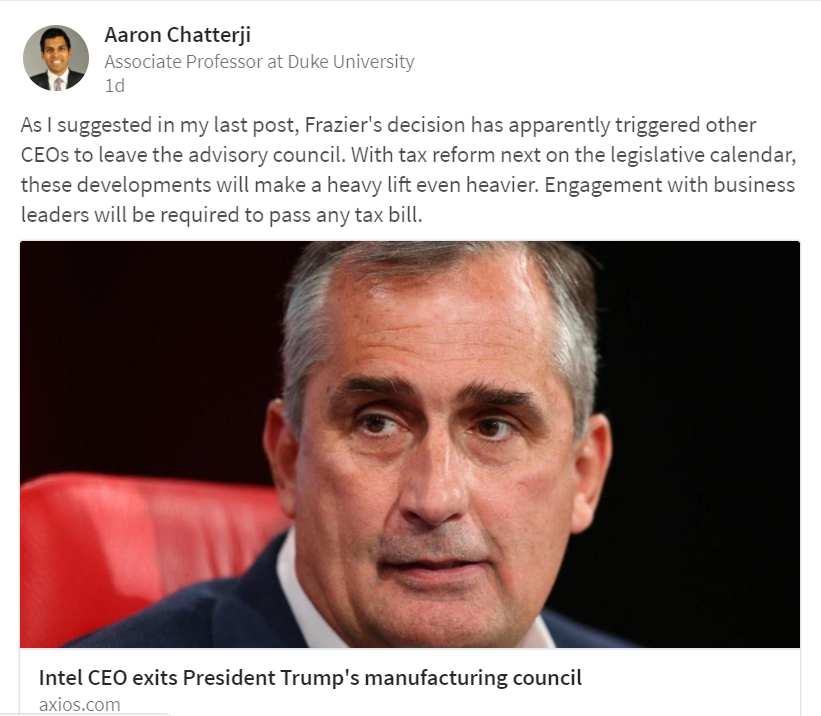 Fuqua Dean Bill Boulding, who also writes regularly about CEO activism, chimed in as well on this most recent controversy. "Unquestionably, CEOs would prefer to remain silent. But at what point do they feel the risks of silence outweighs the risk of taking a public stance?" he said in an interview with CNN Money. CEOs have to think about both their customers and their employees and the risks involved in being too closely linked to such a controversial president whose policies and comments leave many feeling under attack.
"You want your employees to know you have their backs," Boulding told CNN Money.
It will be interesting to see how this week's events find their way into business school classrooms. Seems there's no shortage of fodder for new business ethics cases…