Dartmouth / Tuck Recommendation Questions 2017-2018
The online application for the Tuck School of Business is now live for the 2017-2018 admissions season. This means that the Tuck MBA recommendation questions are available for those supporting Tuck applicants this fall. After some identifying information for the recommender, the form goes on to request that the recommender rate the applicant on a series of leadership traits. Finally, recommenders are asked to provide responses to 5 essay-type prompts.
2017-2018 Dartmouth / Tuck Recommendation Questions
Evaluation
Please compare the applicant on the scale below with others in his/her peer group whom you have known during your professional career (Top 5%, Top 10%, Top 20%, Top 50%, Bottom 50%, Bottom 20%, Not Available):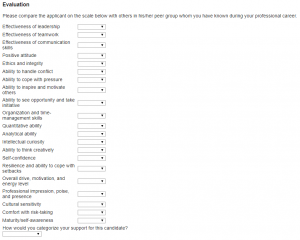 Effectiveness of leadership
Effectiveness of teamwork
Effectiveness of communication skills
Positive attitude
Ethics and integrity
Ability to handle conflict
Ability to cope with pressure
Ability to inspire and motivate others
Ability to see opportunity and take initiative
Organization and time-management skills
Quantitative ability
Analytical ability
Intellectual curiosity
Ability to think creatively
Self-confidence
Resilience and ability to cope with setbacks
Overall drive, motivation, and energy level
Professional impression, poise, and presence
Cultural sensitivity
Comfort with risk-taking
Maturity/self-awareness
How would you categorize your support for this candidate?
Champion
Strongly support
Support
Moderately support
Oppose
Tuck MBA Recommendation Letter
In one document, please answer the following questions. To be sure to address all of the questions, you may wish to number your responses (i.e. 1,2,3, and so on).
How long have you known the applicant and in what context? Have you served as the applicant's supervisor? If so, please provide approximate dates. Please comment upon the frequency and nature of your interactions with the applicant.
What are the applicant's three principal strengths? Please provide an example of each.
In which three areas can the applicant improve? Please provide an example of each. How has the applicant worked to address these areas?
How does the applicant respond to constructive criticism?
Describe the impressions this candidate makes in meetings, presentations, interviews or other important interactions.
If you would like to provide any additional insights into this individual's candidacy, please feel free to do so.
Want advice on your recommendation strategy? Call Veritas Prep at +1-310-295-2098 or click to