Top #MBA Tweets of the Week: #Hurricanes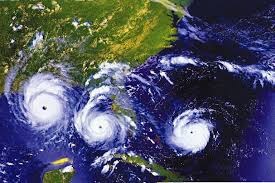 Hurricanes Harvey and Irma have pounded the U.S., leaving immense destruction in their wakes; during this time of need, the business school community has come together to provide aid and also consider the longer-term effects of these natural disasters.
The student community at UT Austin / McCombs banded together to help affected students:
Making great progress toward our goal of $500k in financial aid for students affected by Harvey. Help us make it: https://t.co/k9Oy4mBY4U pic.twitter.com/ZBnKACU939

— UT Austin (@UTAustin) September 6, 2017
While a Duke / Fuqua alumnus provided support on the ground:
The unique way Doug Payne, MBA '12, & 300 of his fellow volunteers are helping Hurricane Harvey victims https://t.co/1GYtAWWklk #fuquaalumni

— Duke Fuqua (@DukeFuqua) August 30, 2017
UCLA / Anderson shared how their state is helping:
California deploys urban search and rescue teams to aid hurricane victims in TX & FL https://t.co/PGGY5tvAru #harvey #irma

— UCLA Anderson (@uclaanderson) September 12, 2017
Meanwhile, other programs, including Georgetown / McDonough, Columbia Business School, and Cornell / Johnson, took a closer look at the economic impact of such natural disasters
Economists say natural disasters can cause ripple effect harming economy for yrs. Prof John Cui comments- https://t.co/J6AKBbTNq1 #MSBquoted

— Georgetown McDonough (@msbgu) September 12, 2017
Storms #Harvey & #Irma raise questions about the US's economic system and politics, says @JosephEStiglitz. https://t.co/PWt8Ty5jD8

— Columbia B-School (@Columbia_Biz) September 12, 2017
Professor & @ZipRecruiter chief economist, @cgbarrera, on #HurricaneHarvey's impact on the US job market. @CNBC https://t.co/5zmsKbMURY

— Johnson at Cornell (@CornellMBA) September 12, 2017
Washington U. / Olin analyzed the coupled fallout of DACA:
"The timing is terrible." Why the coupling of Hurricane Harvey and the DACA repeal is a "toxic cocktail" https://t.co/HISLFhbmjS

— Washington U. (@WUSTL) September 13, 2017
Toronto / Rotman and UT Austin / McCombs had more targeted analyses:
Gas Prices – "quick to rise, slow to fall" says Prof. Ambarish Chandra https://t.co/h9pLfarZEC via @YahooFinance

— Rotman School (@rotmanschool) September 7, 2017
How hurricanes can affect oil and gas prices ⬇️ https://t.co/ymwcH7NkfU

— McCombs School (@UTexasMcCombs) September 6, 2017
While Michigan / Ross considered a curious social fallout of the hurricanes:
The Psychology That Explains Why Hurricane Harvey Flooded Joel Osteen with Criticism –by Ross prof @DaveMMayer https://t.co/fGYHBaAune

— Ross School of Bus. (@MichiganRoss) September 11, 2017
Finally, in the wake of consecutive hurricanes, Columbia Business School posted about the larger environmental issue:
We already know how to curb #climatechange https://t.co/J69OMtiWxA pic.twitter.com/ModyOc5WIS

— Columbia B-School (@Columbia_Biz) September 10, 2017
Have you seen "re-tweetable" tweets in your feed this week? E-mail [email protected] with your recommendations for what breaking MBA news we should cover next.