$50 Million Alumni Gift Promises to Help Transform Learning at UNC Kenan-Flagler

The University of North Carolina and its Kenan-Flagler School of Business recently received a $50 million gift from alumni John and Marree Townsend. The Townsends' contribution will go toward the Innovative Directions campaign, which focuses on transforming teaching and learning through virtual reality, simulations, augmented reality, gamification, and artificial intelligence. It comes as part of UNC's "For All Kind: the Campaign for Carolina"—a university-wide effort to raise $4.25 billion by December 31, 2022.  
As alumni, John (BA '77, MBA '82) and Marree (BA '77) have strong ties to the university. "Carolina is a place that we both love, and this is definitely a shared enthusiasm between us," John told UNC in a news story. "We were privileged to go to the university, and we both got fabulous educations for which we are grateful. Carolina was one of the first organizations that we felt fortunate to be able to support, and it's been such a rewarding place to continue to give to over the years. It's wonderful to watch our contributions making a difference."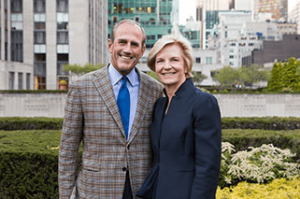 Working closely with deans and campus leadership, the Townsends have earmarked their $50 million gift to support areas of the UNC campus where it will have the most significant impact, including:
$10 million to the Kenan-Flagler School of Business
$25 million to the Ackland Art Museum for works of art
$10 million to the College of Arts & Sciences
More than $1 million to Carolina Athletics
The final portion of the gift will be allocated at a later date.
Kenan-Flagler Dean Doug Shackelford is excited about the ways in which the gift will allow the business school to advance. "This transformative level of support from the Townsends will enable us to make great strides as we work toward our goal of becoming the best business school of the 21st century," he said in a statement. "The more we can maximize the use of technology to link intellectual experiences with emotional ones, the greater the impact on our students' education—and their lives."
John Townsend is a retired senior advisor with Tiger Management Corp., an investment management business. Marree owns Marree Townsend Interiors in Greenwich. They both serve on various boards at the university.
To read more about the gift as well as the latest UNC fundraising campaign, visit the school website.