Attention all applicants, the Stanford GSB Round 1 Deadline of September 18, 2017 is just 21 days away!
Need help with your Stanford GSB application?
Clear Admit has all the news, resources, and advice to make sure your application is as strong as possible!
Start with the Stanford Graduate School of Business profile page as this page includes resources such as:
1. Our detailed Essay Topic Analysis, which is great if you are just beginning to tackle your essays, is also great if you have nearly finished and want a fresh perspective and make sure you have addressed all the touch points.
2. Our thorough Clear Admit School Guide, which includes an in-depth side-by-side comparison of Stanford GSB and its peer institutions.
For a limited time you can get the Stanford GSB School Guide FREE when you become part of the Clear Admit community!
The guide includes figures to illustrate how Stanford compares to its peers, for example: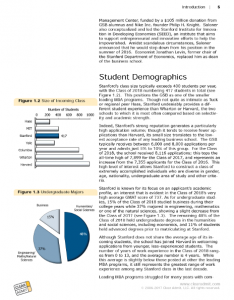 3. For preparing for the Stanford GSB interview, our interview archive includes many examples of interviews from previous MBA candidates which include many of the questions from which you can prepare. You can also turn to our Clear Admit Interview Guides for further insight. Of course once your interview is complete, we would love it if you provided your report.
4. Join the conversation on MBA ApplyWire for those who are fine-tuning their applications to Stanford GSB, and share thoughts and ideas.
And, remember, as you go about the admissions process at your target schools, you can review and update MBA LiveWire at each step of the process to see real-time admissions decisions come in as applicants apply, receive notifications, and interview invites. And once you decide where you're going to enroll in 2018, share that good news with the rest of the Clear Admit community on MBA DecisionWire.
For a quick overview, we also have the FREE Stanford GSB Snapshot and a list of Recommendation Questions, so you know exactly what is being asked of your recommenders.
Good luck!