As we announced last week, VisitWire is designed to help MBA candidates learn more about their target schools by reading about the campus visit experiences of others. To celebrate the launch of this new tool, we're setting this week's MBA Spotlight on VisitWire.  Read on for detailed entries about Dartmouth / Tuck and UVA / Darden.
The first MBA hopeful recounted details about getting to Hanover:

The account continued with more about the interview in addition to useful advice: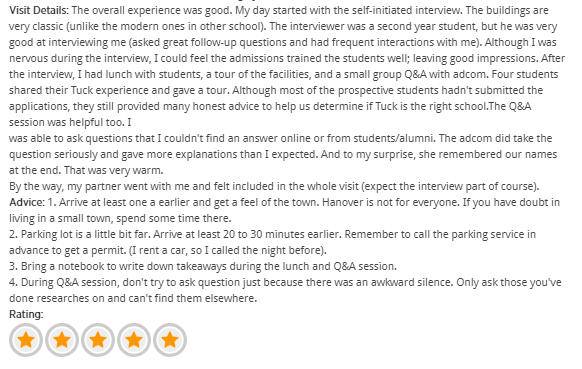 The next candidate supplied their story about stopping by UVA / Darden:

This entry also concluded with a five-star rating:

Did you visit your target business schools? What did you learn getting to and being on campus? Share your story on VisitWire. It's completely anonymous and only takes a minute to complete.