Sponsored Content
Whether you are currently celebrating acceptance letters or just starting to consider business school, you will need to plan for how to pay for your MBA.

Tuition for full-time MBA programs at top business schools can range from $60,000 to over $80,000 a year. For instance, tuition alone at both Chicago Booth and Harvard Business School comes in at $73,440 for the 2020-21 academic year.  Stanford GSB edges them out at a cost of $74,706 in tuition.  The Wharton School of the University of Pennsylvania crossed the $80k mark for first-year students during the 2019-20 school year. Other schools, including Berkeley Haas and UCLA Anderson, post tuition figures around $62,000 and $65,000, respectively.  Add in living expenses to any of these programs and the total cost of attendance will increase to a six-figure sum per year.
The total cost of business school can seem daunting, but Stride Funding has a solution to help you cover it and make the most of your education: Stride Income Share Agreements (ISA).
Income Share Agreements Are More Flexible & Affordable
Under an ISA, in exchange for upfront tuition funding, a student agrees to pay a fixed percentage of his or her income post-MBA for a short, fixed term.
While "taking out a loan" may be the first option that comes to mind when thinking about paying for business school, ISAs differ in important and valuable ways. First, ISAs are not debt.  Stride's ISAs are five-year contracts with flexible payments that adjust 1-to-1with earnings—in contrast to traditional loans with 10+ year terms and either fixed or semi-fixed monthly payments.  In other words, regardless of income fluctuations, the percentage of income paid for an ISA stays the same, as does the number of payments.  Even if your income falls below $30k/year, payments are automatically deferred; payments are also capped if you make more than expected, so you'd never pay more than two times the funded amount.  Additionally, ISAs do not accrue interest or have an interest rate like a loan does, which means that if students need to defer payments because of job loss, health problems, or anything that leaves them below the minimum income threshold, they'll have the peace of mind to know that interest is not accruing during that period.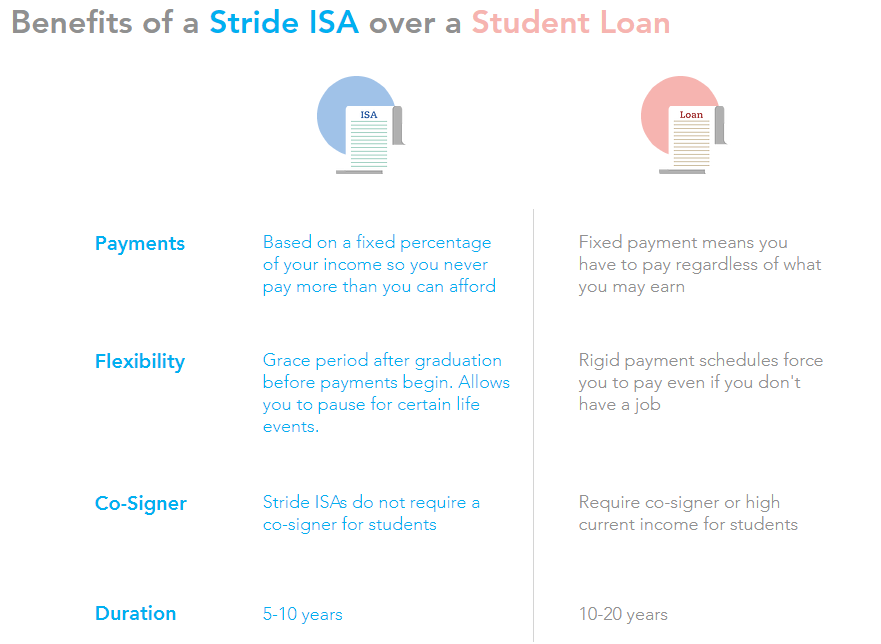 ISAs are structured to be more affordable and flexible than loans.  The above attributes represent a major value proposition, as students can pay off their obligations faster, and while knowing that payments will always be the same percentage of income.  Moreover, if you're also applying for financial aid for your target school, know that most programs view ISAs similarly to private student loans, so they should not impact your chances of aid.
Founder & CEO of Stride Funding, Tess Michaels, highlights additional benefits: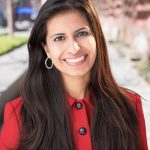 "Stride ISAs are funded by impact-driven nonprofits, allowing us to offer students much lower cost financing, greater flexibility, and career support not offered by traditional lenders. Affordability is key, so Stride charges absolutely ZERO origination fees (for comparison, Grad PLUS charges a 4.2% fee) and ZERO interest accrual while in school or on deferment (a benefit rarely offered by traditional lenders).
"Most of us have chosen to pursue an MBA in order to grow our network and strengthen our career trajectory. Stride offers our students complementary high-value career support, including mentorship, resume guidance, weekly educational content, and a strong peer-to-peer network of like-minded students from other top schools. With ISAs, all stakeholders are invested in realizing the best possible outcome for each student."
Lawrence J LaPorta, a current MBA student at Carnegie Mellon University's Tepper School of Business, shared how the Stride ISA made the most sense for his needs: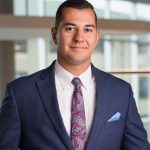 "There are a few reasons I chose to use a Stride ISA instead of a traditional loan option: the shorter duration, affordability, and career support. It's awesome that Stride ISAs are only five years compared to traditional loans, where I'd be stuck paying them back for over 10 years after finishing my MBA program.
"Also, I realized not only were Stride's ISAs shorter, but there's no accruing interest and given their focus on impact, my total costs would be lower.
"Lastly, I pursued an MBA to transition industries and build my network. Stride has opened doors for me and has built a great community of graduate students, they have been a true partner throughout this process."
A Stride ISA payback period generally lasts five years based on your school, major, program, funding amount, and graduation date. Stride offers up to $25,000 in lending per year and they've partnered with CommonBond to help students who have additional financial need.
Stride Funding is Personal—By Students, For Students
The championing of ISAs at Stride Funding is rooted in the founder's personal student experience.  Michaels, who is also a current second-year MBA at HBS, explains:
"A few years ago, I was admitted to Harvard Business School and was thinking through my own financing options (MBAs have become so expensive!). I explored various traditional loan structures and saw that there's a clear need for more flexible, affordable education financing options.
"As I talked to peers, I realized that this is particularly true for graduate programs. Graduate students are often faced with a particularly tough decision, as they typically have significant prior student debt and face greater opportunity costs of going to school. After I learned about income share agreements (ISAs), I became fascinated with them as a way to better align the cost and value of an education and mitigate risk for students.
"I truly believe that we have an opportunity to eliminate the unsustainable debt loads that affect millions of people and to fundamentally change how the world thinks about student financing. With this mission in mind, we created Stride Funding!"
The lending experience is also set up as a true partnership. LaPorta has enjoyed a personalized experience with Stride as he attends business school:
"My experience with Stride Funding has been better than I could have expected for the student financing process. Whereas with a traditional loan, I'd just be a number in the system, with a Stride ISA, I have direct contact with the Stride team and can text them anytime if I have a question – and they know exactly who I am. It's a personalized experience that no other education funding company offers. The stride community has helped open doors for me and is aligned with helping me get the best job I can post-MBA. That is why I would highly recommend Stride to any friends pursuing their MBA to broaden their network and to become a part of a great community."
Percentages and term lengths of each ISA are unique to each student, too. Your personal education and career plans are taken into account when setting up your ISA with Stride.
Stride offers meaningful career resources and support throughout our relationship with the student. Stride wants their students to find rewarding employment, so they offer resume tips, job search advice, free resources and tools like Teal, and more!
How to Apply for an ISA to Pay for Your MBA
"The application process was super smooth and quick to complete," LaPorta says. Applying with Stride starts with answering some simple questions, including what degree you are pursuing, which school you will be attending, your intended major and timing of graduation. The team then reviews your application and sends you a quote; if you qualify, you'll receive an ISA package detailing your income percentage, payment term, and outlining how the ISA structure works—personalized, of course.
Invest in your future today with an ISA from Stride Funding!