The Best Business Schools for Entrepreneurship
Typing "startups are hard" into Google returns approximately 71 million results—ranging from "Startups Are Hard in 100 Different Ways" to "15 Reasons Startups Are !@#$ing Hard." Perhaps that has a little something to do with why more and more savvy entrepreneurs are choosing some of the best schools for entrepreneurship as their training ground.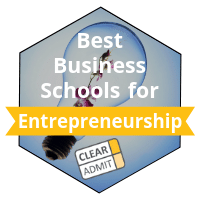 With expanding entrepreneurship curricula, cool campus startup accelerators and ever increasing numbers of business plan competitions—to say nothing of the all-important access to powerful networks of potential investors—the MBA is becoming the preferred path for many would-be founders.
It stands to reason that business schools would become startup hotbeds, especially those that share a few key traits, namely a campus-wide culture of collaboration and innovation; institutional support for programs that encourage technology research and interdisciplinary collaboration, and a location near a technological hub. Combine these ingredients and stir. The result is a self-catalyzing cycle in which campus support for commercializing technology generates local technology startups, which then draw more skilled technologists and managers to the area, who in turn provide the human resources needed to commercialize additional technologies.
Not surprisingly, business schools that offer some of the most robust programs to support entrepreneurship among students and alumni include those like Stanford Graduate School of Business and UC Berkeley's Haas School in Silicon Valley; MIT Sloan School of Management, Harvard Business School and Babson College's F.W. Olin Graduate School of Business in the biotech hub of Boston, and the University of Pennsylvania's Wharton School, NYU Stern and Columbia Business School along the pharmaceutical corridor between Philadelphia and New York City.
But make no mistake. Entrepreneurship is on fire, and even schools outside of these hubs are expanding entrepreneurial offerings in a bid to attract the next Warby Parker or Rent the Runway founders. Northwestern's Kellogg School launched an accelerator for student startups called the Garage last June in a parking garage on campus. And UCLA Anderson celebrated the launch of its own Anderson Venture Accelerator in early 2016.
In the text that follows, we'll offer snapshots of the entrepreneurship MBA programs at a few of the business schools that are leading the charge to support entrepreneurial students—be it through courses, student clubs, business plan contests, startup incubators, mentoring programs or some combination thereof.
HBS's Rock Center Serves as Home Base for Entrepreneurs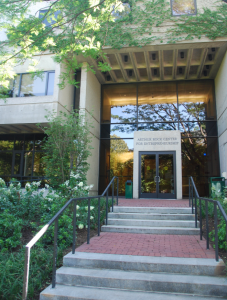 HBS has 24 entrepreneurial courses, 34 entrepreneurship professors and an annual New Venture
Competition that awards more than $150,000 in cash and in-kind prizes.
And that just scratches the surface of what's on offer. Supported by the Arthur Rock Center for Entrepreneurship, HBS also boasts an Entrepreneurs-in-Residence (EiR) program that brings seasoned entrepreneurs and investors to campus for year-long counseling engagements; the Rock 100, a network of high-impact early stage alumni entrepreneurs willing to share experiences with each other and current students; a Summer Fellows Program that provides financial support to MBA students who choose to pursue entrepreneurial opportunities between their first and second years; and a loan reduction program that awards one-time, need-based loan reductions between $10,000 and $20,000 to students committed to pursuing their own for-profit entrepreneurial ventures upon graduation.
There's also the Rock Accelerator Program, which supports 10 to 20 founding teams each year with up to $8,000 in seed capital to apply the lean start-up methodology toward developing a minimum viable product and testing out their value proposition or business model. Over the course of two 10-week terms, teams consult with student and professional mentors, attend peer exchange workshops and focus on rapid prototyping in a race toward a final Demo Day wrap-up session, where they share what they've learned.
HBS added yet another new offering to its entrepreneurial bag of tricks, with the HBS Startup Studio in New York City. Designed to double as a co-working space for eight to 10 HBS alumni ventures and a meeting place for HBS alumni involved in the NYC startup ecosystem, the Startup Studio opened in a temporary midtown location until its 3,000-square-foot Silicon Alley space is ready later this spring. To apply, companies must have at least one HBS alumni founder, at least $500,000 in seed funding and no more than seven employees.
HBS's efforts to incubate successful ventures seems to be paying off. A 2018 analysis published by venture capital, private equity, and M&A database PitchBook identified HBS as the MBA program that has produced the most entrepreneurs, most companies, and most female founders for the second year in a row.  Overall, HBS claims more than 1,310 founders; together they've raised more than $39.28 billion for the 1,186 companies they've launched between them. Among them are U.S.-based e-commerce trailblazers Rent the Runway and Blue Apron; health insurance disruptor Oscar and an Uber competitor for Southeast Asia called GrabTaxi.
Stanford GSB: The Granddaddy of Business School Entrepreneurship Programs
Entrepreneurs made up 16 percent of the Class of 2018 at Stanford Graduate School of Business, according to the school's most recent employment report. Although down slightly from the 18 percent all-time high in 2013, it still places Stanford squarely in the lead in terms of the percentage of its class pursuing startups out of the gate.  (HBS, by comparison, had saw eight percent of its most recent class start their own business.)
Unlike HBS, which has come on strong in recent years with its support for startups, Stanford GSB has a long history of encouraging entrepreneurial career paths straight from school. Its student-led Entrepreneur Club is one of the oldest of its kind, dating back to the 1970s. It currently boasts more than 300 members and organizes more than 50 events each year for the GSB community.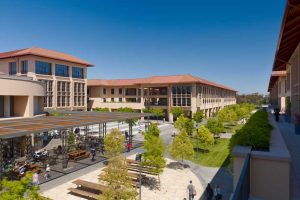 The GSB's Center for Entrepreneurial Studies (CES), meanwhile, has been supporting research pertinent to entrepreneurs since 1996, developing courses and cases, hosting forums, panels and conferences, and facilitating interactions between students, scholars and professionals in the area.
In terms of academics, Stanford GSB students can choose from a staggering 126 entrepreneurship management courses offered across the larger university. In addition to over 60 GSB courses, they can also take classes at the School of Engineering, the Institute of Design and the School of Medicine, among others. One of the GSB courses, Startup Garage, is an intensive, hands-on, two-quarter course that calls on students to apply the concepts of design thinking, engineering, finance and business organizational skills as they design and test new business concepts to address real-world needs.
Extracurricular offerings include the CES Entrepreneurial Summer Program (ESP), which supports MBA students who want to pursue summer internships in entrepreneurial environments, and the Stanford Venture Studio, a co-working space for students across disciplines at any stage of entrepreneurship. In addition to space and tools to ideate, prototype and experiment, the Venture Studio offers workshops and training, one-on-one advising by founders, venture capitalists and industry experts and social activities and other collaboration opportunities with fellow students and alumni.
These and other initiatives have fueled a steady stream of Stanford GSB founders. A June 2015 article published on Medium entitled "What Do Stanford GSB Founders Look Like?" identified 434 founders from GSB classes between 2008 and 2014 who together have raised close to $2.5 billion in capital across 127 funded companies. The Stanford alums who penned the article noted that Stanford averaged 59 founders per year compared to 38 per year for HBS during the same time period.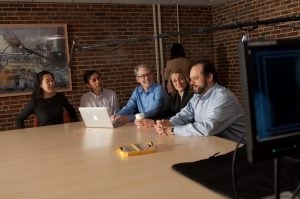 Wharton Entrepreneurial Programs (WEP): Soup to Nuts for Startups
Wharton's website claims it was the first to develop a fully integrated curriculum of entrepreneurial studies—back in 1973. That program today is called the Goergen Entrepreneurial Management Program, endowed in 1997 by Wharton alumnus and benefactor Robert Goergen WG '62. At its helm is Vice Dean of Entrepreneurship and Innovation Karl T. Ulrich, an expert in innovation, entrepreneurship and product development who holds 24 patents. He leads a world-class faculty of close to 20 professors and practitioners who teach courses and guide initiatives for entrepreneurs.
Wharton MBA students can choose Entrepreneurship & Innovation as a specialization within the management department, completing a management core course, an entrepreneurship foundation course, and four to seven electives. For students pursuing entrepreneurial careers in specific areas or industries—such as private equity, corporate venturing, and consulting—Wharton recommends particular sets of courses to help students build relevant skills. For example, students planning to start their own ventures shortly after graduation might take courses that allow them to explore creativity and venture implementation in depth, whereas students interested in consulting might take advantage of courses that train them to capitalize on innovations.
Wharton also lays claim to the first center dedicated to the study of entrepreneurship—the Sol C. Snider Entrepreneurial Research Center. Named by benefactor Ed Snider, owner of the Philadelphia Flyers, in memory of his father, the center is the research heart of Wharton Entrepreneurial Programs (WEP). Its mission is to advance the understanding of entrepreneurship around the globe, and its researchers produce studies drawn from analysis in China, South Africa, the United States and many other economies focused on topics ranging from productivity to large-scale job creation.
WEP also leads a range of entrepreneurial outreach programs and initiatives, starting with the Wharton Startup Challenge, which draws more than 150 teams each year to compete for $135,000 in cash and prizes. Divided into four phases over seven months, the Startup Challenge culminates in the much-anticipated Startup Showcase, when eight finalist teams pitch to distinguished judges and an audience of students, entrepreneurs, venture capitalists, industry specialists, attorneys, local business leaders, alumni and media representatives, hoping to win one of the big money prizes.
Another program, the Venture Initiation Program (VIP), is Wharton's startup incubator. It provides students with work space, mentoring, seed funding and a community of peers as they develop their ventures. Regardless of whether they are participating in the VIP, students can apply for the Summer Venture Award (SVA), which provides a $10,000 stipend to rising second-year MBA students, enabling them to forego a traditional summer internship and instead devote themselves full time to developing their ventures. Additional fellowships provide supplementary funding to students who pursue summer internships at startups.
Students can also learn firsthand about the challenges of launching a business by providing free consulting services to local small businesses and entrepreneurs. Interested students apply to work as part of the Wharton Small Business Development Center (WSBDC), a division of the Snider Center. And finally, like HBS and other leading MBA programs, Wharton features an Entrepreneur in Residence (EIR) program. Students can sign up for one-on-one meetings with the entrepreneurs, who come to campus each week to share their experiences. The program has connected more than 170 successful entrepreneurs—including Warby Parker's David Gilboa, Josh Kopelman of First Round Capital and JibJab's Gregg Spiridellis—with more than 1,700 students eager to quiz them or get feedback on their own ventures.
Although outside the auspices of WEP, discussion of an entrepreneurship MBA at Wharton would be incomplete without mention of the student-led Wharton Entrepreneurship Club. The club organizes projects with Philadelphia startups and goes on treks to meet entrepreneurs and venture capitalists in Philadelphia, the Bay Area, Boston and New York City; hosts young entrepreneurs discussing their challenges and triumphs and puts on an annual Wharton Entrepreneurship Conference, now in its 22nd year, that draws 100 students, scholars, entrepreneurs, venture capitalists and business practitioners.
For those of you keeping score, Wharton reports that 34 students or roughly four percent of the Class of 2018 set out to start their own businesses. This is down from 2013's high of 59, representing just over seven percent of the class. Still, it's a significant jump from 2007, when just 13 graduates were startup bound.
Entrepreneurship Gets a Boost at Michigan's Ross School
The University of Michigan's Ross School of Business was already making a name for itself in the field of entrepreneurship when a generous July 2015 pledge from longstanding benefactors helped it put even more of a stake in the ground. The $60 million gift, from the Zell Family Foundation, provided endowed support for the Samuel Zell and Robert H. Lurie Institute for Entrepreneurial Studies.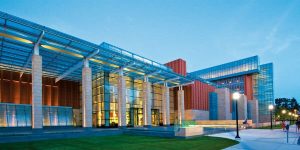 The institute was originally established in 1999 with a $10 million gift from the Zell Family Foundation and the Ann and Robert H. Lurie Family Foundation. This latest injection of cash will support continued development of entrepreneurship programs for students and alumni, including $10 million dedicated to a new fund that will invest in new student business ventures.
Entrepreneurship at Ross has long held a prominent place. The school introduced the nation's first course on it in 1927 and today offers more than 25 entrepreneurship electives students can choose from in their second year. In their first year, all Ross students complete the seven-week Multidis­ciplinary Action Project (MAP), working in four- to six-person teams to carry out a consulting engagement with an outside company. Those who interested in entrepreneurial careers can pursue entrepreneurially-focused MAP projects to gain experience working in a start-up environment, crafting start-up strategy and planning for growth in new industries or geographies.
Ross also established the first student-led venture fund, the Wolverine Venture Fund (WVF), in 1997.  One of the largest university-based venture funds in the nation, the multi-million dollar WVF provides seed funding to early-stage companies under the guidance of MBA students, faculty members and an advisory board of professional venture capitalists. More than two dozen Ross MBA students participate on the WVF team each year, evaluating current portfolio companies' performance, screening business plans for new companies and helping make investment decisions.  The fund also serves as a valuable networking opportunity, since students work closely with successful venture capitalists and entrepreneurs on the advisory board and come into contact with the leaders of WVF portfolio companies.
Students seeking to launch their own ventures can take advantage of the institute's Dare to Dream program, which provides structured support and financial assistance along the way. Students apply to participate in one of the program's three stages—Venture Shaping, Assessment and Integration—and receive grants in each stage to support their work. Those looking to get a taste of an entrepreneurial environment, meanwhile, can take part in the Marcel Gani Internship Program. This program lets Ross MBA students choose either to work as interns for a startup or a venture capital firm or to complete a self-hosted internship launching their own venture.  The program subsidizes the cost of the intern's salary so that more firms can afford to hire an intern and more students can afford to consider an entrepreneurial internship.
Beyond the Zell Lurie Institute's programming, Ross students can also join the Entrepreneur & Venture Club (EVC), one of the largest extracurricular organizations on campus. The club helps members develop their business ideas, find positions with startup and venture capital firms, network with entrepreneurs and venture capitalists, and learn the skills they need to be successful entrepreneurs.  Together, the institute and the EVC host the annual Entrepalooza, a public symposium each September that brings together students, scholars and business leaders in entrepreneurship and venture capital.
Last but not least, students can get hands-on experience developing a business through participation in the Michigan Business Challenge. Teams advance through a series of rounds, pitching their ideas to judges along the way. The format is designed to help students grow better able to persuade an audience of the merits of their business—receiving feedback along the way. Participants share $100,000 in awards and startup capital.
No Guarantees of Startup Success, but Top-Notch Proving Grounds
Startups are inherently risky—and choosing one business school over another offers no guarantee that you'll be able to transform your business idea into the next Uber. After all, successful entrepreneurship takes a unique alchemy of talent, timing, luck and grit. But the best business schools for entrepreneurship have placed considerable resources and great minds toward figuring out what makes a successful entrepreneur—making their campuses a great place to earn your startup stripes.