The Best Business Schools for Marketing

The "four Ps" (product, price, place and promotion) and the "three Cs" (customers, competition and company) may not have become completely passé, but there's some serious shifting taking place in the world of marketing. Companies must reach global audiences of consumers, confront and master the ever-evolving intricacies of social media, command the growing frontier of video marketing and get a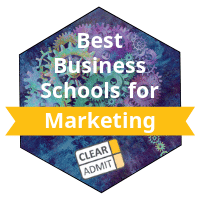 handle on terabytes of data representing critical market intelligence waiting to be mined.
As always, MBA students who study marketing can go on to a range of careers—brand or product management, market research, sales, advertising, marketing consulting and marketing in retail, pharmaceuticals and high-technology. Adding further to the complexity is the fact that companies identify and structure their marketing positions in many different ways. Some companies have large marketing departments in which individual marketers are assigned to roles specializing in market research, strategy or advertising. Other firms expect their marketers to have a hand in—and mastery of—each of these roles, as well as responsibility for P&L, collaboration with supply chain and operations and more.
So, drumroll please, which MBA programs are keeping pace with the changing marketing industry? Who's doing it best—and how? Is it through changes to curriculum, strategic faculty hires, launches of new centers and institutes of expertise, unique extracurricular offerings? Finally, which schools are helping more of their graduates land the most desirable jobs, whether at consumer product goods (CPG) giants like Nike, Unilever and PepsiCo; market research titans like Neilsen or Forrester or ever-increasing data analytics shops like Cloudera, Sumo Logic or Google? Read on for some of our picks.
Kellogg: King of the Marketers
For almost two decades, Northwestern's Kellogg School of Management has placed among the very top programs in U.S. News & World Report's annual ranking of best business schools for marketing. Of course, all rankings have their flaws, but when the same program tops the list year after year after year, it certainly suggests that Kellogg is getting something right.
So just what does Kellogg do so well when it comes to marketing? For starters, Kellogg's marketing faculty is among the best in the world. Professor Angela Y. Lee chairs a department made up of almost 50 tenure, clinical, affiliated and emeritus faculty members who approach the teaching of marketing from diverse perspectives and backgrounds—ranging from psychology and cultural anthropology to neuroscience and data analytics.
Professor Derek Rucker, for example, regularly publishes in the world's leading psychology journals, delving into what makes for effective advertising and what motives underlies consumer consumption. Professor Florian Zettelmeyer, meanwhile, who heads the Program on Data Analytics at Kellogg, focuses on evaluating the effects of information technology and big data on firms. Kellogg's belief has always been that the best marketing education results from the deepest possible understanding of customer behavior, which it feels is best delivered through a wide array of lenses—precisely those offered by its diverse faculty.

Traditional Texts Meet Cutting-Edge Course Offerings
Even amid seismic shifts in the field of marketing, Kellogg Professor Philip Kotler's 1967 textbook, Marketing Management, has remained a standard text at many American business schools, and Kellogg also likes to point out that many of the marketing professors leading rival business school marketing departments in fact hold Kellogg PhDs. But Kellogg is also always evolving to keep pace with the discipline's shifting landscape. As an example, a Kellogg MBA student who chooses to major in marketing can also choose the Data Analytics pathway, which offers opportunities for deeper dives through courses such as "Digital Marketing Analytics" and "Customer Analytics."
Every MBA who graduates from Kellogg will have a foundational understanding of marketing since one of the school's nine core curriculum courses is "Marketing Management." Beyond that, students targeting careers in the field can choose to major in Marketing, which provides an in-depth understanding of marketing concepts suitable for careers in management consulting, general management, or other functions.
Students can also choose from nearly 40 related electives, which again is how Kellogg can stay current with shifts in the industry and encourage its students to view the field of study through multiple lenses. Some recent additions to the course options include "Marketing Strategy for Growth and Defense," designed to teach students to develop competitive growth and defense strategy, and "Advertising Strategy," a 10-week course offered that identifies compelling brand strategy and aims to better utilize the $250 billion spend on advertisements each year.
Strategic Markets & Customers Initiative Takes Marketing Beyond the Classroom
In addition to its marketing majors and related pathways, Kellogg also has four "strategic initiatives" designed to focus on key issues confronting today's senior business leaders. Again, believing in an interdisciplinary approach, Kellogg developed these strategic initiatives to equip graduates across each of its majors with skillsets that will allow them to make meaningful change whatever industry they enter. One of the four strategic initiatives is the Kellogg Markets & Customers Initiative (KMCI). The KMCI serves as a repository for research and insight designed and curated "to help business leaders create and reinvent markets through greater customer insight and focus," according to the Kellogg website.
Beyond the classroom, there are any number of ways for future marketers to get their brand on at Kellogg, including a range of centers that fall under the KMCI umbrella. Since 2008, Kellogg has been home to the Center for Market Leadership, which focuses on helping leading organizations learn how to become more customer-oriented in order to drive innovation and growth. Each fall, the center hosts an annual Marketing Leadership Summit, which lures marketing gurus from leading companies to pool mindshare while tackling key issues like digital disruption, the future of marketing or—as at this past fall's conference—transformation within an organization and one's self. Speakers this past October included Raquel Rozas, Chief Marketing Officer for GoFundMe; Amy Weisenbach, VP of Brand Marketing at the New York Times; and Zena Arnold, General Manager of U.S. Chromebooks; among many others.
Kellogg Marketing Students Take Charge
Since it's Kellogg we're talking about, you have to know the students are involved in a big way. The Kellogg Marketing Club is one of Kellogg's largest and most active student organizations, putting on a range of events made possible by the sponsorship of numerous companies interested in recruiting Kellogg students. Like marketing clubs at other schools, Kellogg's student-run group brings first- and second-year students together to let them help one another through interview prep groups that cover interview etiquette, case questions and ad critiques. The second-years also share their summer internship experiences with first-years to help them know what to expect and how to prepare.
The club also regularly brings chief marketing officers, brand managers and other senior marketing executives to campus for speaker series and hosts an informal Lunch & Learn program where students gather to discuss marketing trends. The club also organizes marketing industry treks—two- or three-day trips to leading brand and retail firms on the East and West Coasts—and "Company Shadow Days" at the proliferation of CPG firms in the Kellogg area, letting students get a first-hand feel for what a career in marketing would really look like day to day.
Finally, the club also lets students test their marketing mettle through an annual Kellogg Marketing Competition held each winter. Student teams of five are challenged to market a randomly assigned real product to the Kellogg community, first presenting a marketing plan to a panel of marketing execs, students and judges and then executing on the plan through marketing campaigns on campus and in the Evanston community. A fair is held at the conclusion of the competition, where the teams sell their products from booths. A winning team is crowned based on feedback from a panel of judges as well as the target customers themselves.
Show Me the Jobs
Okay—so Kellogg does a bang-up job of preparing its MBA students to be marketers. Is that enough to land them the jobs they seek at the end of their two years? Employment statistics say yes. In 2018, 19 percent of Kellogg graduates took functional roles in marketing, earning an average salary of $119,511 with an average signing bonus of $28,959.
To help make this happen, the Kellogg Marketing Club joins forces with the school's Career Management Center (CMC) to provide networking events, recruiting advice and opportunities to meet with top recruiters in the field. Last year, firms like Anheuser Busch, PepsiCo, SC Johnson, and Wayfair among the top hirers of Kellogg grads.
What Makes Wharton Tops for Marketing?
So, Kellogg may most often rank number one when it comes to marketing, but the University of Pennsylvania's Wharton School is reliably close. Like Kellogg, Wharton also boasts a deep bench of heavy-hitting marketing faculty members, who the school claims "are the most published and the most cited among all marketing departments in the world." The faculty includes 28 standing faculty members, making up Wharton's fourth-largest department. Another 19 secondary, affiliated and emeritus members round out the bunch.
Some of its stars include Raghu Iyengar, who co-directs the Wharton Customer Analytics Initiative and specializes in pricing and social influence, and Eric T. Bradlow, another co-director of the Wharton Customer Analytics Initiative and Chairperson of the Wharton Marketing department. Bradlow is an applied statistician who uses high-powered statistical models to solve problems on everything from Internet search engines to product assortment issues. As at Kellogg, the Wharton marketing faculty also includes professors with expertise in a range a disciplines including psychology and neuroscience.
Wharton's core curriculum includes both fixed and flexible course options. The fixed core includes one required marketing course, "Marketing Management," which gives every Wharton student an intro to foundational marketing concepts while helping whet their appetite for marketing-focused electives.

In terms of majors, Wharton students can choose a single major, a double major or design their own major. Students interested in marketing careers can choose a single major in Marketing, a joint major in Marketing and Operations Management, combine one of these with another major of interest in their target industry or create their own major related to the marketing field.
The Marketing major gives a strong foundation in the basic disciplines needs to implement effective marketing strategies—making it perfect for students pursuing management careers in fields such as consulting, entrepreneurial management or line management. Often, students will pair it with a second industry-focused major to develop a particular expertise. A Marketing major paired with the Entrepreneurship & Innovation major, for instance, could make sense for someone hoping to start their own venture. A student looking to manage a nonprofit organization, meanwhile, might pair Wharton's Marketing and Business Economics & Public Policy majors.
Students set on post-MBA careers in brand management, product management, consulting project management or other related positions are better suited by the joint Marketing and Operations major. In addition to the core marketing and operations management courses, this major also requires students to take "Marketing Research" and "Managing the Productive Core of the Firm: Quality and Productivity." A choice of electives round out the major, one of which must be from the marketing department and two from the Operations and Information Management Department (OPIM).
In terms of the electives marketing students at Wharton have to choose from, you'll find everything from old standards like "Consumer Behavior" and "New Product Management" to deeper dives like "Consumer Neuroscience" and "Introduction to Brain Science for Business." To be sure, Wharton is also bulking up its elective offerings in terms of data analytics, digital marketing and global marketing, with multiple options on offer for the spring 2019 semester.
Wharton's Marketing Department is also associated with a variety of research centers and programs to help students and faculty understand the latest trends in the field. The Wharton Customer Analytics Initiative and the Jay H. Baker Retailing Center all offer initiatives in different marketing sub-fields.
Students Helping Students
Wharton, too, is home to a dynamic student-run Wharton Marketing Club (WMC), which hosts regular events ranging from coffee chats to guest speaker series, conferences to industry treks. Recent WMC industry treks have taken marketing students to visit fashion and luxury companies in New York City, tech companies on the West Coast, and CPG firms in the Midwest.
The WMC taps Wharton's extensive alumni network as well to organize "day-on-the-job" visits all over the United States, during which students get to shadow marketing employees and learn about their career paths, the company culture and the daily life of a marketing professional. Host companies for these special visits have included Colgate-Palmolive, Dell, Frito-Lay, General Mills and Kraft.
In terms of events, the WMC puts on a much-anticipated Battle of the Bands each year. Getting its start in 2008—with the tagline "Watch Wharton Students and Professors Rock Out"—the Battle of the Bands brings together amateur rock bands at Wharton for a night of entertainment that may contain more enthusiasm than talent. The marketing students, meanwhile, hone their marketing skills by promoting the event.
The WMC's largest event, though, is the annual Wharton Marketing Conference, held in November. The theme of the 2018 conference was "Leveraging Technology for Innovative Marketing," which invited speakers and panelists to share their insights on the latest ways technology can be used as leverage to develop increasingly innovative marketing strategies. In addition to keynote speakers renowned in the industry, it also featured multiple networking events, fireside chats, and panels on topics including "Speaking to Millennial Consumers," and "How Do We Use Data Analytics for Better Marketing?"
Where Do Wharton Marketers Get Jobs?
The Wharton Marketing Club (WMC) works with Wharton's MBA Career Management Office to make sure that marketing students have solid support in the job search process. The WMC runs a panel program in which a second-year student who has just been through the summer internship recruiting process makes themselves available to offer mentorship, as well as help with résumé review and mock interviews. Wharton's annual employment reports break things out a little differently than other schools, but students who went into product/brand marketing, product/development structuring and sales together made up approximately nine percent of last year's graduates. The median annual salary for those in product/brand marketing functions was $120,000, and $135,000 for those in product development/structuring roles. Wharton shares only that given employers employed two or more Wharton students, but among those firms for 2018 were Johnson and Johnson, Anheuser-Busch, Estee Lauder,  PepsiCo, and General Mills.
Other Marketing Programs On the Rise
Following coverage of two of the longest established and most highly renowned business schools for marketing, we looks at other solid choices prospective MBA applicants have when it comes to marketing.
As you might imagine, with more and more students showing interest in marketing, schools are beefing up their resources to meet demand—devoting increasing faculty, courses, centers and programming to support these interests.
Marketing at UCLA Anderson School of Management
The UCLA Anderson School of Management has sent as much as 29 percent of its graduates into marketing roles in recent years, with 23.3 percent of the Class of 2018 heading off to marketing departments in industries ranging from consumer products, entertainment and media to technology and healthcare. The number of Anderson graduates entering marketing functions matched those choosing consulting (23.3 percent), and surpassed finance/accounting (22.6 percent). Of course, counted within the percentage of graduates heading into marketing functions were those pursuing roles in brand management, product management, market research, sales and other marketing services—though it could be that the variety of employment options open to marketers is precisely part of its wide appeal. Top hiring firms for Anderson students in marketing include Mattel, the Walt Disney Company, and Nike.
How Does Anderson Make Marketers Out of Its MBAs?
For starters, every Anderson student gets an introduction to foundational marketing concepts as part of one of the school's core classes, "Marketing Management." You can't pass this class without a firm grasp of the "four Ps" and "3 Cs." But from there students can dive into an ocean of marketing elective options, covering everything from the building blocks of the field—like price policies, consumer behavior and market research—to more nuanced and cutting-edge topics such as one-to-one marketing, entertainment marketing and web marketing analytics.
In their second year, Anderson MBA students take part in a required eight-credit Applied Management Research project (AMR) that stretches out over two quarters, with students working in teams on an original applied research assignment. Students interested in post-MBA marketing positions can choose the management field study option, getting placed with a client company where their job is to analyze marketing or competitive challenges and recommend how to address them. One recent Anderson AMR team worked closely with the Mayor's Office to rebrand the city of Los Angeles.
Unlike Kellogg and Wharton, which both offer majors in marketing, Anderson does not have majors. That said, Anderson students can tailor their studies through a variety of specializations and certificate programs. Students who opt for the marketing specialization can choose from sets of electives recommended by the school for particular career paths. For example, students interested in careers in brand management might select from electives that will help them build a solid foundation in consumer psychology, financial modeling and quantitative research. Students gearing up for careers in high-tech marketing can instead focus on electives that will help them hone their understanding of network effects, rapid cost declines, information goods versus industrial goods, product bundling and versioning.

Who's Teaching Anderson MBAs to Become Marketers?
Anderson's marketing faculty is comprised of almost two dozen distinguished scholars who bring a range of marketing expertise, spanning from human behavior to market analytics to pricing. Professor Dominique Hanssens, who has served as the school's faculty chair, associate dean and marketing area chair, is widely regarded for the quality of both his research and his teaching. He is best known for using data-analytic methods such as econometrics and time-series analysis to tackle strategic marketing problems—for companies including Agilent Technologies, British Telecom, Disney, Google, Hewlett Packard, Hughes, Johnson & Johnson, Mattel Toys, Mercedes, Microsoft, Schwab and Wells Fargo, among others. Then there's current Marketing Area Chair Aimee Drolet Rossi, meanwhile, who examines the mental processes that underlie consumer decisions, with specific focus on decision-making among older consumers, as well as on the development of habits and moderation.
The point is, Anderson's marketing faculty offers students a range of perspectives and access to expertise and research that will serve them whichever path they ultimately choose within the field.
Outside the Anderson Marketing Classroom
The student-led Marketing Association (MA) works to help advance its members' career searches as well as educate the larger Anderson community about the marketing field. It does this through a mix of professional and social events all year long. Kicking things off is a Fall Career Night, where interested students can learn more about potential career paths in both traditional and emerging marketing fields by networking with alumni and recruiters. Last year's panelists included representatives from Nestlé, Mattel, Clorox, E&J Gallo Winery, General Mills, Henkel and Mars.
Throughout the year, the MA also hosts corporate presentations, a speaker series, a workshop series that helps students hone their marketing interview skills, and something called "Dinners for Eight," which are informal dinners with Anderson alumni focused around specific topics and industries.
Anderson marketing students can also take part in the Elite Eight Brand Management Competition, the historical sponsors of which include General Mills, Land O'Lakes, Target and other firms. In this three-day competition, hosted in November 2018 at the University of Minnesota's Carlson School of Management, teams from eight leading MBA programs are presented with a strategic brand management challenge currently faced by a partner company. The teams have 30 hours to develop a structured case analysis and original recommendations, which they then present to a panel of expert judges.
A Center Helping Anderson Be a Go-To Source for Marketing, Data Analytics
A $10 million gift from Anderson Professor Emeritus Donald Morrison and his wife Sherie, a distinguished professor of microbiology, immunology and molecular genetics, established the Morrison Family Center for Marketing Studies and Data Analytics in April 2015. The center serves as a global resource to enable academics and practitioners to use data analytical tools to understand consumer markets and behaviors. "Marketing isn't just about creative thinking today," Don Morrison said in a statement about the center's launch. "It includes more quantitative research that incorporates the art of econometrics, big data, psychology, behavioral research—all under the umbrella of 'marketing studies.'"
Getting Anderson MBAs the Marketing Jobs They Seek
Of course, a school can have all the courses, student organizations, top faculty and centers it wants—but the true measure applicants care most about is whether or not Anderson students are finding the post-MBA jobs they want. Anderson's Parker Career Management Center (CMC) features advisors specifically aligned with the marketing function to help students targeting marketing roles have a clear understanding of the landscape, facilitate outreach and informational interviews—including with the Anderson alumni network—and prepare for marketing interviews. These advisors also provide resume and cover letter review, as well as job offer evaluation and negotiations. First-year students are also grouped into a marketing-focused Anderson Career Team (ACT). As part of the Marketing ACT, students meet with guest speakers, share contacts, experience and motivation through the internship search process, and gain valuable guidance from second-year ACT coaches, who have emerged from the career search process with top job offers.
Also Tops in Marketing: Indiana University's Kelley School of Business
Leaving Los Angeles behind, the next stop in our MBA marketing programs all-star tour is Bloomington, Indiana, home to Indiana University's Kelley School of Business. Kelley sends more of its graduates into marketing than any other function. For the Class of 2018, 32 percent went into marketing and sales, compared to the 20 percent who headed into finance and the 24 percent who headed into consulting.
These statistics aren't surprising when you take a closer look at the school. Kelley has developed a solid infrastructure for students interested in marketing. At Kelley, first-year MBA students choose an "academy," which provides additional access to specific activities, consulting projects, career coaches, company treks and mentorship opportunities related to their chosen field. Students interested in marketing can choose from several relevant academies, including the Business Marketing Academy and the Consumer Marketing Academy. Beyond being part of these academies, Kelley students can also major in marketing, which involves completing required courses in marketing performance and productivity analysis as well as marketing strategy and strategy simulation. Once these are completed, there are 18 electives from which to choose, ranging from courses like "Managing Advertising and Sales Promotion" and "Brand Asset Management" to courses on digital marketing, global marketing and "Special Topics in Marketing," which delves into functional theories related to social media including network theory, game theory and collective intelligence social media.
Another course unique to Kelley is called "Bloomington Brands (B2)." B2 is actually the brand management team for Osmocote® Plant Food, a best-selling brand for the Scotts Miracle-Gro Company. But get this: It's composed entirely of Kelley MBA students. Interested students interview for positions in their first year and work on the brand for two semesters. While Scotts owns the trademark and provides essential business functions, Kelley students do all of the marketing—from brand strategy to consumer communications, from pricing to promotions to packaging. The real-world on-the-job training Kelley students obtain through B2 has helped propel many marketing careers. "B2's brand managers have landed high-profile positions with Scotts, Colgate, Procter & Gamble, Nestlé, Kraft, Nationwide, General Mills and Kellogg," the school reports.

The marketing faculty at Kelley, meanwhile, includes 39 professors, assistant professors and lecturers who bringing a wide range of expertise to their students. Associate Professor of Marketing Lopo Rego, who teaches the core course in marketing that all Kelley students complete, is most focused on topics like the interface between marketing and finance, customer satisfaction and brand equity. Professor Ray Burke, meanwhile, brings expertise in marketing research, shopper behavior, retailing and data mining. And then there's Senior Lecturer Ann Bastianelli, whose research interests include advertising and brand strategy, consumer insights and behavior, marketing communications management, and maximizing personal performance.
Marketing Beyond the Classroom at Kelley
The Kelley Marketing Club (KMC) is the largest student club at the business school. Beyond a traditional array of offerings designed to help provide marketing students with access to recruiters and to prepare those students for interviews, the KMC also puts on a range of unique activities throughout the year, including a Battle of the Brands, a Super Bowl Ad Analysis and a "Marketing for Good" Speaker & Workshop.
Kelley is also home to the Center for Brand Leadership, which nurtures partnerships with leading corporations and publishes path-breaking brand management research. Its current corporate sponsors include Nestlé USA, E&J Gallo Winery, Target, Scotts, ConAgra, Whirlpool, Hertz, General Mills, and Bloomington Brands. Clinical Professor of Marketing Jonlee Andrews, who directs Kelley's Consumer Marketing Academy, also serves on the center's faculty.
In terms of helping Kelley graduates secure post-MBA marketing roles, Graduate Career Services have associate directors focused on each consumer marketing and business marketing. The school's most recent employment report reveals that top hiring firms in 2018 included 3M, Johnson & Johnson, Nestlé, and Proctor and Gamble. The median base salary for the 32 percent of Kelley students who accepted marketing positions was $108,500.
Michigan for A Marketing MBA? Ross School of Business Says "Yes"
The University of Michigan's Ross School of Business also sends a healthy slice of its graduates into marketing roles—22.6 percent according to the school's 2018 Employment Report. Ross has a long tradition of combining academic learning with hands-on experience, and this is very much true of how it teaches marketing.
All Ross first-year students take "Marketing Management" during the second half of the fall term, which approaches marketing decision-making by focusing first on organizations' goals and abilities. From there, students learn how organizations set marketing objectives by considering competitors and current and potential customers. When it comes to making decisions about distribution, pricing, products, promotion and services, Ross students analyze the current situation, pinpoint possible challenges and come up with solutions to create or maintain a competitive advantage. Because it's Ross, after all, students are expected to be hands on—developing cases in their areas of interest and presenting them during in-class case sessions. The end result: Students emerge from this class with the tools they need to analyze marketing programs and make marketing decisions.

Ross Puts Marketing on the MAP
Ross's signature Multidisciplinary Action Project (MAP)—a seven-week requirement of the core curriculum—also has particular value for marketing students. Student teams are paired with companies in the United States and abroad to complete a significant consulting assignment. The teams may work for Fortune 500 companies, entrepreneurs or nonprofits on projects related to almost any area of business. Students interested in marketing can choose to work with consumer goods and retail companies or to work on a marketing project with a firm in another industry.
Recent MAP challenges have included a team of students developing a strategy to grow brand and product awareness in the U.S. for LegWorks, a company dedicated to providing prosthetic knees to those who cannot afford prosthetic device; another team working in Dearborn, MI with Ford to analyze market trends to help the company consider new and varied business pursuits; and student teams working throughout different regions of Chile to accurately brand and represent the sustainable practices of Salmon Magallanico's and promote the benefits to consumers.
Ross doesn't offer formal majors, but students can complete varied courses drawn from the marketing department's full- and half-term courses. Among them: "Sensory Marketing," "Nonprofit and Social Marketing," "New Product Innovation and Management" and "Marketing Research Design and Analysis."
Faculty Experts at Ross
The more than 30 professors and lecturers that make up the Ross marketing department conduct research on topics such as consumer self-control, pricing and promotion and the strategy of brand building. The chair of the department, Fred Feinberg, is best known for his research in examining and determining how consumers make choices in uncertain environments.  Feinberg seeks to use data and statistical models to examine complex decision patterns. Most recently, he has examined decision making in social contexts, including why people choose another in platforms like online dating websites and apps.  Several Ross faculty members bring experience as former marketing executives to the classroom; other faculty members are actively involved in current marketing practice through their private consulting projects.
Special Programs and Centers Focused on Marketing at Ross
Ross's marketing department maintains affiliations with several research centers and initiatives at the University of Michigan, including the American Customer Satisfaction Index (ACSI) and the Yaffe Center for Persuasive Communication. Claes Fornell, a Ross professor of business administration, helped found the ACSI, an economic indicator that gauges customer satisfaction with the quality of products and services available to consumers. Its readings are used by more than 400 companies across 46 industries and 10 economic sectors. In addition to measuring quality from the customers' perspective, the ACSI also assesses the causes and ramifications of customer satisfaction. Academic researchers also utilize the ACSI's data in studying customer satisfaction dynamics.
Marketing Beyond the Classroom at Ross
With more than 300 student members, the Michigan Marketing Club is one of the school's largest organizations. Its main focus is on preparing its members for careers in brand management and for marketing-focused positions in healthcare, technology, consulting and other industries. To this end, the club hosts guest speakers, information sessions, recruiting preparation activities, "Day in the Life" trips to company headquarters and other activities.
One of the Marketing Club's largest and most anticipated annual events is the Marketing Symposium, featuring panels, breakout sessions, industry speakers and a career fair. The 2018 symposium, entitled "Engage: Reconnect with Customers," featured Anat Baron, Brand Builder and former Head of Mike's Hard Lemonade, as one of its keynote speakers. Companies sponsoring the 2018 symposium included General Mills, American Express, MillerCoors, Dell, Conagra, and SC Johnson, among many others.
In addition, the Ross Luxury Goods & Retail Club (LGR) serves students interested in marketing positions within the retail and luxury industries. The club focuses on apparel, non-apparel, mass merchandising, retail consulting, retail manufacturing and luxury retailing, and prepares members for all functions within these sectors. The club's event list includes alumni networking opportunities, guest speakers, corporate presentations and company visits.
Finally, Ross marketing students also benefit from the Marketing Lab, a student-led initiative designed to prepare students for real-world marketing careers by giving them access to important data tools to perform analysis of in-market data. The tools are the Nielsen point-of-sale scanner data and Tracx social media listening analytics tool. The school's website boasts that Ross is the only business school with access to these tools.
Getting Ross Students into Marketing Roles
Through Ross Career Services (RCS), Ross students have access to individual counseling as well as workshops, formal recruiting opportunities. In addition, the school's coffee chats and office hours provide a more casual venue for networking with recruiters.
Top firms hiring Ross students for marketing roles are spread across CPG firms, healthcare and pharmaceutical companies, tech companies and retail companies. Among them: Johnson & Johnson, Procter & Gamble, General Mills, Amazon, Google, Target and PepsiCo.
According to the school's published employment figures, the median starting salary for the 22.6 percent of the Ross Class of 2018 that went into marketing was $120,000. Of those, 91.8 percent also reported a median signing bonus of $30,000.
As you can see, top MBA programs for marketing can be found in all corners of the United States, from the East Coast to the West and several points in between. Stay tuned for more about UC Berkeley's Haas School of Business and UT's McCombs School of Business, which placed 23.5 percent and 26 percent of its 2018 graduates in marketing roles—a sharp increase from their former 15 percent placements.
The good news for the prospective marketers among you is that your options are many!