Free Webinar: Action Learning – Projects that make a difference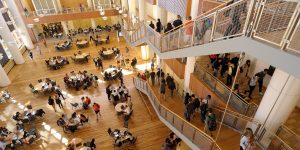 Join Clear Admit CEO Eliot Ingram, Illinois/Gies Director of Admissions & Recruitment Jennifer Larson and Illinois/Gies Director of Action Learning to discuss the benefits of Action Learning during your MBA experience.
Thursday, March 29th , 2018
1:00 p.m. EST/ 12:00 p.m. CST
In this online information session, the panel will discuss how prepared students are for the job market via Action Learning experiences, how action/experiential learning can make a difference in your career and what skills you will gain through your action learning experiences:
Topics covered include:
What Action Learning looks like at the Illinois MBA
The Consulting Lab and its core components
The Global Immersion Lab Experience
Q&A with current students
*Can't make it?
Don't worry. Sign up anyway and you'll get a recording sent to you after the webinar has completed.
Speakers
Andrew Allen- Director, Action Learning
Before joining the University of Illinois, Andrew worked for KPMG and Opportunity Fund in the San Francisco Bay Area and ran a startup in the higher education space. For the past 7 years, Andrew has worked in the area of experiential learning – or learning by doing – and has been involved in over 300 client-based projects at the University of Illinois and at several universities around the country.
Jennifer Larson- Director, Recruiting and Admissions
Jenny leads the Illinois MBA recruiting and marketing team. Previously, and when she first joined the College of Business in 2014, Jenny served as a MBA career coach.  She also has more than 15 years of sales and marketing experience in both the public and private sectors, serving as Assistant Athletic Director for Sales and Marketing with Illinois Athletics and the Assistant Director of Marketing for the University's primary entertainment venue, Assembly Hall. She began her career working for Hyster Company/NACCO MHG. She is also an alum of the Illinois MBA.