MBA Scholarships & Supports for Minority Students

MBA scholarships and supports for under-represented minority students represent valuable and important opportunities. Diversity in MBA programs is not just about equity and ensuring an inclusive campus experience. It is essential for business schools to produce executives with diverse perspectives and worldviews in order to compete in the global economy.
Every business school has campus organizations that offer support resources and networking for women and ethnic and racial affinity groups. However, there are also numerous independent organizations dedicated to increasing minority representation in business leadership through programs designed to support BIPOC students pursing their MBAs.
These groups create opportunities for underrepresented minorities to engage with large professional networks and benefit from programs that provide minority MBA scholarships, grants for graduate schools, and graduate fellowship programs.
MBA Scholarships & Supports for Minority Students
Different programs are usually targeted for a specific community or affinity group. Entry into some of these programs and applications for scholarships and fellowships requires membership with the organization and may incur fees. Participation as a member may also include mandatory events.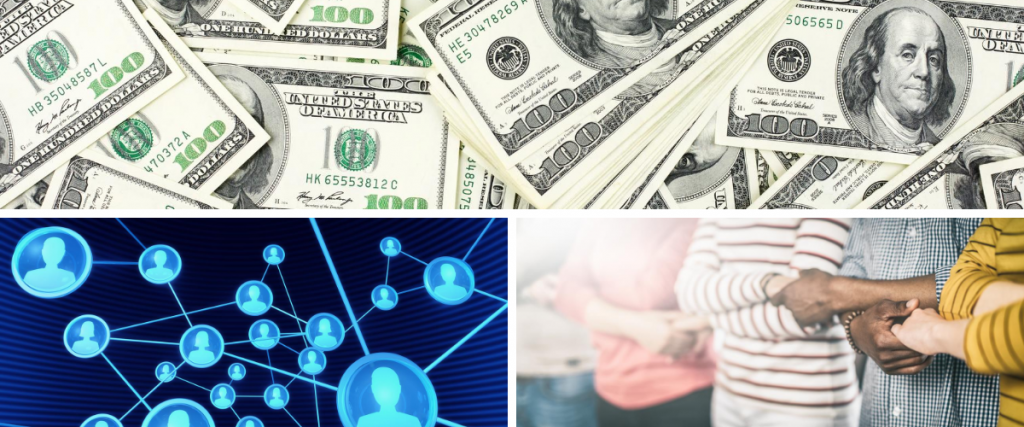 Explore some of these organizations and their programs for MBA applicants and students here:
The American Indian Graduate Center
Mission
Established in 1969, the AIGC provides financial support for Indigenous Americans and Alaskan Natives pursuing higher education through partnerships with Tribes, foundations, corporations, individuals, and federal government agencies. Their programs provide support with scholarships for high school students, undergraduates, and graduate students. Other student resources include fellowship and internship opportunities, and college prep and career guidance. AIGC currently administers the following MBA scholarships for Native American students.
MBA Scholarships
Indigenous students pursuing an MBA are eligible for two of AIGC's scholarships.
The Wells Fargo American Indian Scholarship is for students pursuing a career and degree in fields related to banking, resort management, gaming operations, management and administration, accounting, finance, information technology and human resources. Wells Fargo Scholarship applicants must be incoming students at a U.S. accredited college or university, registered full-time and degree-seeking, with an average GPA of a 3.00 on a 4.00 scale.
The REDW Scholarship is a merit-based multi-year award to encourage Native American students to pursue careers in accounting and finance. REDW LLC designed the scholarship to increase the pool of top talent from which the firm can recruit for their Nation Tribal Services team and identify Native American students interested in participating in their Internship Program. Applicants must be in a full-time Master's degree program, pursuing a Masters in business administration, taxation, or accountancy.
REDW encourages scholarship recipients to apply for paid REDW internships in either the Phoenix, Arizona or Albuquerque, New Mexico offices. Residency in either city is not required, however careful consideration will be given to those intern applicants who can obtain housing in either location.
Eligibility
Applicants for these scholarships must be an enrolled member of a federally recognized American Indian Tribe or Alaska Native group, or provide documentation of ancestry to possession of 1/4 degree Indian blood of a federally recognized Tribe (to be verified only through submission of a Tribal Eligibility Certificate). Applicants must also complete a financial needs analysis form.
---

The MBA Scholarships & Supports for Minority Students section is brought to you by the Lauder Institute's joint degree MA program in International Studies. Students at Lauder earn two degrees in two years by combining the MA with a Wharton MBA. Look Globally. Engage Locally. Act Responsibly. Learn more at lauder.wharton.upenn.edu.
---
National Black MBA Association
Mission
The NBMBAA is celebrating its 50th anniversary this year. A Black professionals' network, it boasts 20,000 members in 39 professional chapters. The NBMBAA works to increase awareness and facilitate access to graduate and business education programs in professional fields.
MBA Student Supports & Opportunities
Membership with the Association provides benefits that vary based on membership level. Members receive Discounts on annual conference registration, invitations to chapter events and networking events, have access to scholarship and grant resources, educational webinars, and special programming.
Members are joining a network where they can establish mutually beneficial relationships with other professionals and prestigious companies for "long-term, holistic collaboration and professional development." Membership fees range from $15 to $45 annually for students and $100 to $200 for professionals.
NBMBAA holds an annual conference and career fair in the fall. This year's event being held September 23-25 will be virtual, with prestigious speakers in journalism, entertainment, sports media, finance, and politics. The Conference brings together members, sponsors, and prospective employers for two days of networking and support for black professionals.
MBA Case Competition
The National Black MBA Association Graduate Case Competition is an annual contest where graduate minority business students compete for $50,000 in cash prizes and employment opportunities. Teams of up to four students are given one month to analyze a business and demonstrate their problem solving skills. They present their findings to a panel of senior level executives from Fortune 500 businesses and academia over a four-day event. At least two of the team members must be African American, and all must be U.S. or Canadian citizens or legal permanent residents. All team members must be enrolled full-time in an AACSB accredited Master's program at the time of the competition.
MBA Scholarships
The Collegiate Partnership program is designed to increase placement rates of student members and expand the impact of the NBMBAA in education and wealth creation. MBA scholarships are offered in partnership with more than 35 business schools, and corporate sponsored MBA scholarships are available with companies such as Google and Key Bank. The scholarships applications are only availability to members, and recipients must meet acceptance requirements of the school partners to which they are applying.
Prospanica
Mission
Prospanica was founded as the National Society of Hispanic MBAs in 1988. Its mission is "to empower and enable Hispanic MBAs and business professionals to achieve their full educational, economic, and social potential." The organization was re-branded in 2016 as Prospanica to acknowledge the growing Hispanic demographic and address the needs of all Hispanic professionals. Chapters are located all over the country, providing opportunities to network with like-minded professionals and access career development resources.
Members are eligible for a number of MBA scholarship programs. The annual student membership fee is $30 for graduate students, $15 for undergraduates, and $120 for professionals who are not enrolled in a college or university.
MBA Scholarships
The Prospanica Foundation Scholarship Program offers a select number of MBA scholarships up to $5000 for members. Applicants must be US citizens, legal permanent residents, or DACA recipients, and be of Hispanic/Latino heritage. A minimum GPA of 3.0 on a 4.0 scale (or an equivalent) is required, however in combination with two years of full-time work experience, a minimum of 2.75 GPA on a 4.0 scale (or equivalent) is accepted. Applicants must be enrolled in or planning to enroll in a post-graduate Masters or PhD program or an undergraduate program in an accredited business school in the US or Puerto Rico.
Prospanic's University Partnership Program (UPP)  consists of nearly 30 colleges and universities throughout the country. Qualified Hispanic students can apply for financial assistance when earning an MBA. The application process varies by program, and assistance types can be MBA scholarships, fellowships, and assistantships. Applicants must be Prospanica members admitted in the partner university's business program, have a minimum GPA of 3.0 out of a 4.0 scale (or equivalent) from either a bachelor or graduate degree, and be of Hispanic heritage.
The Robert Toigo Foundation
Mission
The Robert Toigo Foundations's mission is "to transform the performance of forward-thinking organizations through education and strategies that drive greater inclusion and the ongoing development and promotion of exceptional diverse leaders." For 30 years Toigo has worked to promote minority representation and women in business. Their philosophy is that diverse hiring is an investment, and an organization that does not recognize the need for culturally diverse talent is at a competitive disadvantage.
MBA Student Supports
Toigo has developed All Aboard: A Toigo Institute Diverse Director's Initiative that provides a tool for individuals and organizations to access diverse candidates with financial expertise to serve on the boards of public, private, and non-profit organizations. They also support minority entrepreneurship by helping new entrepreneurs develop the requisite skills for starting and growing a business, and locate the resources needed for fueling growth through their Bridge to Business program. Toigo also hosts The Groundbreakers Summit for Women in Leadership, an annual event designed to promote relationships, career connections, and professional development for women across government, academic, business, philanthropy, media and more.
MBA Scholarships
The Toigo MBA Program provides MBA scholarships, a network of career connections, training, and support to diverse business school graduates launching careers in finance. Applicants must be applying to or have been accepted into an accredited U.S.-based, two-year, full time MBA program, a JD/MBA, or Masters in Finance/Real Estate. Non-US citizens are eligible.
This is a competitive program where out of 500 applicants, 65-75 are selected. There is no fee to apply, but should the candidate advance as a finalist to the Catapult round, there is a non-refundable $350 fee. Catapult is a two-day mandatory event where MBA Program Finalists are first exposed to Toigo and potential employers to meet and interact.
Participants are also eligible to apply for MBA scholarships sponsored by corporate partners. Second-year MBA students will be eligible to apply for the yearly Vision award competition, which provides awards up to $10,000. MBA Program participants are provided intense training via masterclasses, mentoring and career coaching, and leadership training that tackles issues unique to diverse professionals. Those who complete the first-year leadership track may advance to join Toigo's graduate fellowship program and have unique opportunities to network with potential employers and a 1500 member MBA graduate community.
Eligibility
Toigo uses the U.S. Department of Labor's definition of ethnic minority: African American, Hispanic/Latino, Asian American/Pacific Islander, South Asian American, and/or Native American/Alaskan Native. As many individuals identify as multi-ethnic, those who are interested in eligibility for programs are encouraged to email with any and all questions.
MLT
Mission
Launched in 2002, MLT (Management Leadership for Tomorrow) is a non-profit organization dedicated to developing a community of Rising Leaders from high-achieving women and men from underrepresented communities — African American, Latinx, and Native Americans — who work to expand talent pipelines at more than 100 leading businesses, social-sector organizations, and universities.
Their goal is a world without inequality; "Where people of color realize their full potential and diverse leadership is no longer underrepresented." Numbering now at over 8,000, by 2025 MLT hopes to see 1000 Rising Leaders in senior positions and 10,000 more thriving in various stages of their careers.
MLT offers college prep, MBA prep, career advancement programs, a well-developed talent network, and a coaching program for first-generation low income college students.
MBA Application Supports
MLT MBA Prep, a service for minority students completing an MBA application, includes personalized coaching, access to top MBA program admissions officers at seminars hosted by business school and corporate partners, and a network of high-performing peers in the MLT community. In addition, they offer MBA Prep Accelerated, a six-month boutique admissions program with enhanced consulting for applicants with a GMAT score greater than 680, and GMAT Coaching, a program for applicants who want to strengthen their test prep before MBA Prep.
Meanwhile, MLT PD, an extensive MBA professional development program, is a 27-month pre-MBA program that pairs minority professionals with one-on-one coaching, networks and support, participation in an immersive industry boot camp, and development of a personalized career road-map. Participants will have the opportunity to interview for internships three months before entering their MBA program, potentially starting with an internship offer. The program can be completed while participants are still working full-time.
Fees & Eligibility
The application fee for MBA PD is $60, and if admitted there is a $550 program fee and and event fee of $150 which is refundable after successful participation in the seminar events. There are additional costs related to travel to and from seminar events.
The program is available to professions accepted to and enrolling in an MBA program. Candidates who are already MBA Prep Fellows must have applied for full-time admission at two-year MBA program to one of MLT's partner business schools to apply to MBA PD on or before the first round deadline. After the first round, candidates must have an admission letter from a two-year program to qualify. All other applicants must have full-time admission in a two-year MBA program at one of the MLT partner business schools.
Request More Information from the Lauder Insitute
Stay Connected
Introduce yourself so that we can provide you with information about the Lauder Institute of Management & International Studies at the Wharton School.