Yale School of Management

The Yale School of Management (SOM) is located near the center of Yale University's campus in New Haven, Connecticut. While Yale has made concerted efforts to expand its class size in recent years, it is still one of the smaller leading MBA programs; hallmarks of Yale SOM include its close-knit student body and multidisciplinary approach to business education. In addition, students at the school benefit from a high degree of integration with Yale University as a whole and have the ability to take elective courses across the university.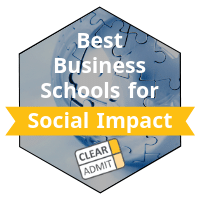 Military Visit Day
Introduce Yourself
Admissions Events
Silver Scholars Program (for college seniors)
Campus Visit
Application Information
FAQ
What is the tuition for Yale SOM's MBA program?
The tuition for Yale SOM's MBA program is $82,200 per year. The total cost of the Yale SOM MBA program is $114,860 per year; this includes budgeted living expenses.
How hard is it to get into Yale SOM's MBA program?
The acceptance rate for Yale SOM is 23.7% It is important to consider the acceptance rate in the context of the student profile of those who are admitted. For example, the median GMAT score is 720.
What is the average GMAT score for admission to Yale SOM's MBA program?
The median GMAT score for the incoming class at Yale SOM is 720.
Does the Yale SOM MBA program accept the GRE?
Yes. The Yale SOM MBA program has accepted the GRE for a few years now.
What is the average GRE score for admission to Yale SOM's MBA program?
The median GRE scores for the incoming class at Yale SOM are 164 Verbal and 166 Quant.
What is the minimum number of years of work experience required for admission to Yale SOM's MBA program?
Yale SOM does not state a minimum requirement for years of work experience.
What is the average number of years of work experience for admission to Yale SOM's MBA program?
The average number of years of work experience among students in Yale SOM's MBA program is 5.1.
What is the median starting salary for graduates of the Yale SOM MBA program?
The median starting salary for Yale SOM MBA graduates is $140,400 with a median of $30,000 in signing bonuses. The salary will vary by industry, with consulting and finance jobs generally commanding the higher salaries.
What are the application deadlines for Yale SOM's MBA program?
The Round 1 MBA application deadline is September 12, 2023. The Round 2 application deadline is January 4, 2024. The Round 3 deadline is April 9, 2024.
What percent of Yale SOM MBA students are women?
The percentage of the class at Yale SOM that are women is 40%.
What type of interview does Yale SOM use for MBA admissions?
Yale SOM offers interviews by invitation. The interviews are resume-based. This means the interviewer has not had access to the application materials, except for their resume.
Videos
Celebrating Women at Yale: Pioneering Yale SOM Alumnae
Celebrating Women at Yale: Pioneering Yale SOM Alumnae
Yale SOM EMBA Class of 2023
Yale SOM EMBA Class of 2023
Admissions
Yale SOM Class Profile
There are 339 students in Yale SOM's Class of 2025. The median GMAT score of this class is 720 and for those who chose to take the GRE, median scores landed at 164 Verbal and 166 Quant. Their median undergraduate GPA came in at 3.60. Thirty-five percent earned a degree in a STEM discipline during their undergraduate years. A quarter of the class had pursued humanities, with 22% holding business degrees and 18% a degree in economics.
Women make up 40% percent of the Class of 2025. Half of the class hold passports for a country other than the U.S. and represent 46 different countries altogether. Forty-eight percent of U.S. students identify as U.S. students of color and 18% identify as a U.S. underrepresented minority.
Yale SOM's MBA students average 5.1 years of work experience. Financial services topped the pre-MBA industry experience at 24 percent. Eighteen percent had been working in consulting before matriculating. Another 12% came from the tech industry, followed by 11% from government service, and nine percent from nonprofit.
Application Procedures
Applicants can apply to Yale SOM during one of three rounds of admission; these typically occur in mid-September, early January and mid-April. The admissions committee requires that applicants submit a completed online application form covering personal and biographical information, a résumé, two letters of recommendation, a video response, and transcripts from all academic institutions attended. Applicants must also submit a GMAT or GRE score report, and typically a $250 application fee.  Application fees are priced on a sliding scale depending on the applicant's income. Interviews are conducted by invitation only and are required for admission to the MBA program. Applicants may be interviewed by members of the Yale SOM admissions committee or trained second-year students.
Applicants who have displayed commitment to encouraging diversity in American businesses may also apply to Yale through the Consortium for Graduate Study in Management. 
Application Checklist
Data Forms
GMAT/GRE score(s)
Academic Transcripts
Résumé
Essays
Recommendation Letters
Application fee
Video Questions
Behavioral Assessment
Essay Topic Analysis
Need help with your essays? Get our experts' advice.
Recommendation Questions
Find out what top MBA programs ask recommenders.
Yale SOM LiveWire and DecisionWire
Academics
Faculty
Across its seven disciplinary groups, the school employs more than 100 full-time professors, in addition to approximately 70 affiliates and visiting professors. These professors help manage the school's five research centers, which cover topics ranging from business and the environment to corporate governance and performance.
Curriculum
Yale SOM's MBA program is designed to be completed over four semesters of 12 weeks each, with students completing an internship during the summer between the first and sec­ond years. Each semester is divided into two six-week quarters; while the majority of electives last an entire semester, all core courses and some electives last only one quarter. Professors at Yale SOM use the "Raw Case" approach, which challenges small teams of students to analyze real-world case studies using data, news reports, and interviews.
Typically, first-year students have a week and a half of orientation, then begin the core curriculum in late August; second-year students commence classes a few days later. The fall semester ends in mid-December. Classes resume in mid-January and run until early May, with commencement occurring later that month.
All first-year students are required to complete Yale's core curriculum, which is made up of two segments. The first segment, Orientation to Management, lasts for seven weeks and teaches students the basics of business disciplines such as economics, accounting, management, data analysis and decision-making. Rather than focusing on disciplinary topics, the next segment, Organizational Perspectives, is team-taught and designed to help students look at the business world in an integrated manner by examining different internal and external roles. Organizational Perspectives runs for two quarters and is comprised of 10 courses. During spring break, each first-year student fulfills an international experience requirement by going on one of several faculty-led fieldtrips to various international destinations.
In order to graduate, each MBA student must earn 72 units of coursework.  Thirty-two and a half of these are achieved by completing the core curriculum; the remaining 39.5 are fulfilled through elective courses.  First-year students take four units of electives in the spring semester, and the second-year curriculum is comprised entirely of electives. In addition to the wide variety of electives offered through Yale SOM, MBA students may fulfill their elective requirement by cross-registering for courses offered at other schools within Yale University. Students may also study abroad at one of Yale SOM's international exchange partner schools during the fall or spring semester of their second year.
Other MBA Degree Options
In addition to its two-year full-time MBA program, Yale SOM offers an Executive MBA program for leaders in the asset management, healthcare, or sustainability sectors. The school has joined with Yale Law School to offer three-year and four-year MBA/JD programs. There are nine other joint degree options available, through which students can earn their MBA as well as a degree from another Yale graduate school. These include, among others, an MBA/MPH with the Yale School of Public Health, an MBA/MD with the Yale School of Medicine, and an MBA/MA in Global Affairs with the Jackson Institute for Global Affairs.
Core Courses at Yale SOM
Orientation to Management
Basics of Economics
Basics of Accounting
Introduction to Negotiation
Modeling Managerial Decisions
Probability Modeling and Statistics
Managing Groups and Teams
Global Virtual Teams
Organizational Perspectives
Competitor
Customer
Investor
Power and Politics
The Global Macroeconomy
Sourcing and Managing Funds
State and Society
Workforce
Innovator
The Executive
Operations Engine
Degree Offerings at Yale SOM
Full-time MBA Program
https://som.yale.edu/programs/mba
Executive MBA Program
MBA for Executives: Leadership in Asset Management, Healthcare, or Sustainability
https://som.yale.edu/programs/emba
Joint Degrees
MBA/JD, MBA/MEM or MF, MBA/MPH, MBA/MPP, MBA/MD, MBA/MARCH, MBA/MFA, MBA/MDIV or MAR, MBA/MA, MBA/PhD
https://som.yale.edu/programs/joint-degrees
Campus Life
Clubs, Conferences & Competitions
Students at Yale SOM have ample opportunities for extracurricular involvement. The school has over 50 student-run clubs, which vary in focus from professional to social. On the professional side, the Consulting Club helps students learn about the consulting industry and recruiting process through weekly club meetings, interview workshops and case study practice sessions. In addition, each year the Consulting Club coordinates with Net Impact, another student group, to organize a case competition for first-year students. SOM students also have the opportunity to participate in other competitions including the annual Yale Healthcare Case Competition, which is run by the Yale Healthcare Club.
Yale SOM's student clubs host a variety of conferences each year, such as the Private Equity Club's Private Equity & Venture Capital Symposium. There is also the student-run Philanthropy Conference, as well as the annual Yale Healthcare Conference, run by Yale SOM and the Health Professional Schools at Yale University.
Campus Space
Yale SOM is situated in the center of Yale University's campus in New Haven, Connecticut. The business school campus is housed in Edward P. Evans Hall, a 240,000 square foot facility that opened in January 2014 and includes a 350-seat Zhang Auditorium, the Ross Library, a dining commons and coffee shop, 16 state-of-the-art classrooms and the Beinecke Terrace Room.
While the Graduate Housing Office does offer dormitories and apartments to graduate students and their families, the school notes that most graduate students opt to live off campus in the residential neighborhoods of New Haven. Students can learn more about how to pursue off-campus housing options through Yale SOM's Office of Student Affairs.
MBA Careers
Career Services
Yale SOM's Career Development Office (CDO) provides students with a wide range of career counseling services, such as speakers, workshops and individual advising appointments. In addition, the CDO boasts a large library where students can find information about preparing for interviews, guides to writing cover letters, and other career development resources. The CDO also organizes a variety of recruiting events throughout the year to enable students to meet potential employers. These include corporate presentations, industry-specific networking nights, and trips to visit companies on site. Moreover, the CDO oversees a busy schedule of on-campus interviews; second-year students begin interviewing for full-time positions in late September, and first-year students begin interviewing for summer internships in mid-January.
Career Statistics
Upon graduation, the median starting salary for Yale SOM's Class of 2022 was $160,110, with a median of $30,000 in signing bonuses.
Consulting was the most popular industry choice for 2022 graduates, with 46% of the class entering this industry. Nearly 22% percent of students went into finance and 8% into technology. Members of the Class of 2022 also found positions in retail and CPG among other industries.
As often occurs at business schools, Yale SOM placed a large proportion, 49%, of its graduates in the region where the school is located: the Northeastern U.S. Twenty percent of the Class of 2022 found jobs in the Western U.S., while 5% went to the Midwest and 10% to the Mid-Atlantic. Nearly nine percent of students took jobs outside of the United States.
Financing
The tuition and program fees for the 2023-2024 academic year total $82,200; however, with additional expenses such as living expenses and textbooks, Yale SOM estimates that students will pay $114,860. A large number of merit-based scholarships are available through the school to help students pay for their education. Every applicant is automatically considered for these scholarships, with no separate application necessary. Students are also encouraged to pursue scholarships from outside sources. For additional sources of financial aid, students can apply for a variety of loans. These include federal loans for U.S. citizens and permanent residents, as well as the loans through Prodigy Finance and Quorum Federal Credit Union, both of which do not require a co-signer and are open to all international students at Yale SOM. Alumni who pursue post-MBA careers in the public or nonprofit sectors within 10 years of graduation are eligible for extensive loan repayment support through the Yale SOM Loan Forgiveness Program.
Two-Year Program Tuition
Tuition $82,200
Program Fee $500
Room, Board, and Personal Expenses $28,266
Textbooks and Photocopies $1,000
Health Insurance $2,894
Total $114,860