Georgetown / McDonough MBA Application Deadlines 2023-2024

The Georgetown MBA deadlines at the McDonough School of Business for the 2023-2024 admissions season are as follows.
Applicants targeting the McDonough MBA program should note that all application materials must be submitted by 11:59 PM Eastern Time.
2023-2024 Georgetown / McDonough MBA Deadlines

| Round | Application Deadline | Decision Notification |
| --- | --- | --- |
| Round 1 | October 2, 2023 | December 7, 2023 |
| Round 2 | January 4, 2024 | March 18, 2024 |
| Round 3 | March 26, 2024 | May 1, 2024 |
| Round 4 | April 30, 2024 | May 29, 2024 |
Completed applications must include unofficial transcripts from all academic coursework (official transcripts should only be submitted if admitted), a resume, GMAT, GRE, or EA scores (test waiver available), one letter of recommendation preferably from a current supervisor, and the non-refundable $175 application fee. Recommenders are required to submit the recommendation form online and may submit a letter or performance review as part of the online form. Applicants must complete one of three essay question options and a video essay.
All non-US applicants must take either the TOEFL or the IELTS to demonstrate proficiency unless they have obtained a bachelor's or advanced degree from an accredited institution of higher education in the United States or from an institution where English is the primary language of instruction.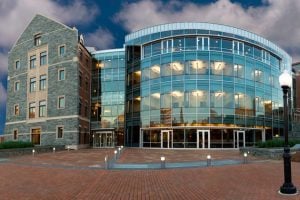 Application fee waivers are available to active duty, reservists, or veterans of the United States military, Management Leadership for Tomorrow (MLT) Fellows, Forté MBA Launch participants, Members of the Consortium for Graduate Study in Management (CGSM), current and returned Peace Corps Volunteers, and AmeriCorps and Teach for America participants or alumni. Applicants should not pay the fee if they meet eligibility for a waiver as reimbursements are not available. Members of Forté, U.S. citizens and permanent residents who earn less than $30,000 per year, non-U.S. citizens who earn less than $15,000 per year in U.S. dollars automatically qualify for a reduced application fee of $100.
Decisions are released through the online application portal by the published notification date.
How Does Georgetown / McDonough Conduct Interviews?
Interviews are offered by invitation only and can be in person or virtual. Invitations to interview are extended following each application deadline and will continue up until the decision release date. Waitlist candidates may be invited to interview after initial decisions are released.