Kelley School of Business – Indiana University

Indiana University's Kelley School of Business offers a full-time MBA and an online MBA degree program from its Bloomington campus as well as an Evening MBA and Business of Medicine MBA from its Indianapolis campus. With academic, leadership, and career development opportunities, the Kelley MBA uses a variety of components to educate its students.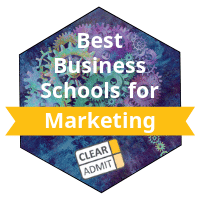 Request More Information
Learn More
↑
FAQ
What is the tuition for Kelley's MBA program?
The tuition for Kelley's MBA program is $51,451 per year. The total cost of the Kelley MBA program is $76,090 per year; this includes budgeted living expenses.
What is the average GMAT score for admission to Kelley's MBA program?
The average GMAT score for the incoming class at Kelley is 677.
Does the Kelley MBA program accept the GRE?
Yes. The Kelley MBA program has accepted the GRE for a few years now.
What is the minimum number of years of work experience required for admission to Kelley's MBA program?
Kelley does not state a minimum requirement for years of work experience. However, it is important for candidates to be aware that they are being considered against other candidates with an average of 5 years of experience.
What is the average number of years of work experience for admission to Kelley's MBA program? (or, What is the average age of a Kelley MBA student?)
The average number of years of work experience among students in Kelley's MBA program is 5. On average, Kelley students are 28 years old.
How long is Kelley's full-time MBA program?
Kelley offers a traditional 2 year MBA program.
What are the application deadlines for the Kelley full-time MBA program?
The Round 1 (Early) MBA application deadline is October 15, 2019. The Round 2 (Priority) application deadline is January 5, 2020. The Round 3 deadline is March 1, 2020. The Round 4 deadline is April 15, 2020.
What percent of Kelley MBA students are women?
The percentage of the class at Kelley that are women is 29%.
↑
Admissions
The Class Profile
Of the 204 members of the Class of 2019, their average age was 28 and they had an average of five years of work experience. The Class of 2019 is comprised of 29% women, 25% minorities, and 30% international students. Thirty-five percent had earned undergraduate degrees in business administration. Twenty-five percent majored in social sciences and humanities, while another 35% pursued science and engineering. The average GMAT for the class was 677 and the average GPA was 3.38.
Application Procedures
The Kelley School's application requirements include the following: transcripts verifying an undergraduate degree, a GMAT or GRE score, a current résumé, an essay, and a letter of recommendation. International applicants may be expected to submit TOEFL or IELTS results, if their native language is not English. Applicants can apply in one of four rounds, which typically fall in October, January, March, and April. Interviews are not required, but applicants are encouraged to schedule one before submitting their applications. These may be scheduled on campus in Bloomington, or at an admissions event. Once applications are submitted, interviews become by invitation only; these may be conducted over Skype or by phone.
Application Checklist
Online Application
Essays
One Letter of Recommendation
Résumé
Official Academic Records
GMAT or GRE Score
TOEFL/IELTS Scores
Interview (optional)
↑
Essay Topic Analysis
Need help with your essays? Get our experts' advice.

Indiana / Kelley MBA Essay Topic Analysis
The following essay topic analysis examines the Indiana University's Kelley School of Business (Kelley) MBA admissions essays for the 2019-2020 admissions season. You can also review essay topic analysis for other leading MBA programs as well as general Essay Tips to further aid you in developing your admissions essays. Indiana / Kelley MBA Essay Topic Analysis 2019-2020 […]
↑
Recommendation Questions
Find out what top MBA programs ask recommenders.

MBA Recommendation Questions
We know it's a bit unnerving to solicit recommendations without knowing what your recommenders are being asked. Luckily, we've done all the legwork for you and have gathered all of this admissions cycle's MBA recommendation questions from the top business schools in one easy-to-manage spot. Below you will find more details on those questions that […]
↑
Interview Reports
IU / Kelley Interview Report: Round 2 / Adcom / Off-Campus
The following IU / Kelley MBA interview report was submitted to Clear Admit by a Round 2 applicant. Arrived early and waited in the hotel lobby's lounge, which was where the interview took place. Interviewer arrived 15 minutes early and asked if we could get started because he had a cancellation. Interview lasted about about […]
IU / Kelley MBA Interview Report: Round 1 / Student / Campus
The following IU / Kelley MBA interview report was submitted to Clear Admit by a Round 1 applicant. This was a very informal interview which took place in a small meeting room adjacent to the admissions office. The interview was conducted by a second year student who seemed very enthusiastic about the program. Questions were […]
↑
Iu-kelley Q&As

Admissions Director Q&A: Kelley School of Business' James Holmen
How did southern California native James Holmen end up in Bloomington, Indiana, directing admissions at the Kelley School of Business? And what's kept him there for more than 20 years? We caught up with him earlier this week to learn that and much more. Holmen studied economics and sociology at UCLA, but what he learned […]
↑
Iu-kelley LiveWire and DecisionWire
↑
Academics
Faculty
Across its Bloomington and Indianapolis campuses, the Kelley School of Business has 358 faculty members, more than half of whom are tenure track. Nearly three quarters of the faculty holds a PhD, JD, or EdD terminal degree. The faculty is known for their research, as they have published hundreds of journal articles and books in the span of only a couple of years.
Curriculum
The full-time MBA at Kelley takes two years to complete. The first semester consists of the integrated core courses, which helps students understand business fundamentals over the course of 15 weeks. Courses cover topics such as economic foundations and quantitative analysis.
First-year MBA students choose an Academy to gain additional access to specific activities, consulting projects, career coaches, and mentorship opportunities related to their chosen field. First-year MBA students may choose from the following academies: Business Marketing, Capital Markets, Consulting, Consumer Marketing, Strategic Finance, or Supply Chain. A specialized Academy called PLUS Life Sciences offers students additional training in the health care and pharmaceuticals fields. Optional second-year Entrepreneurial Innovation and Leadership Academies are also offered.
In addition, students choose one of seven majors, or they can design a specialized one. The standard majors include business analytics, entrepreneurship and corporate innovation, finance, management, marketing, strategic analysis of accounting, and supply chain and operations. Majors require 15 credit hours. Minors, which require six additional credit hours, are also offered.
Kelley MBA students may also earn a certificate in social entrepreneurship or global business achievement. The social entrepreneurship program consists of 18 credit hours, and it works in conjunction with the School of Public and Environmental Affairs. Meanwhile, the global business achievement certificate requires three hours of specialized coursework, a global experience component (e.g., a study abroad program), and a language and culture opportunity (e.g., a foreign language course).
Lastly, leadership components are built into the program with Me, Inc., which helps students develop a deeper understanding of their personal brand and how to parlay that knowledge into career opportunities.
Other MBA Degree Options
In Bloomington, the Kelley School of Business offers a full-time MBA program as well as an online MBA option. The Online MBA covers topics from business law and ethics to project management, and it requires 54 credit hours to complete. It can be completed in two years by taking two to three courses each quarter, although students may take up to four years to complete the program.
In Indianapolis, the Evening MBA program is offered, along with the Business of Medicine MBA. The Evening MBA program, which can be completed in two years, uses a cohort class and a flexible structure to help students succeed in the program. Five majors—finance, general administration, management and entrepreneurship, marketing, and supply chain management—are also offered. Each week, students take one on-campus class, which runs from 6:00 p.m. to 9:00 p.m. Students also take a second course once a week online. 
Lastly, the Business of Medicine MBA is a physician-only MBA. The two-year program blends online and on-campus learning to accommodate busy schedules.
Majors at Kelley
Business Analytics
Entrepreneurship and Corporate Innovation
Finance
Management
Marketing
Strategic Analysis of Accounting
Supply Chain and Operations
Degree Offerings At Kelley
Full-time MBA Program
https://kelley.iu.edu/programs/full-time-mba
Online MBA Program
https://kelley.iu.edu/programs/online/index.cshtml
Evening MBA Program
https://kelley.iupui.edu/programs/evening-mba/
Business of Medicine MBA Program
https://kelley.iupui.edu/programs/physician-mba/index.html
↑
Campus Life
Clubs, Conferences, & Competitions
At the Kelley School, MBA students have the choice of 24 clubs to join and may launch a new club if so interested. The organizations address everything from cultural affinity (e.g., the Black MBA Association, the Jewish Association of MBAs) to professional skills (e.g., the Consulting Club, the Investment Club). Clubs for extracurricular activities, including soccer and golf, are also available. There is also a Toastmasters association and the Partners' Club for MBA students' significant others.
Conferences are also offered regularly. For instance, the Institute for Business Analytics offers annual conferences such as the Kelley Forum on Marketing Analytics and the Kelley Analytics Conference. In addition, the Center for the Business of Life Sciences presents the annual Indiana Life Sciences Collaboration Conference Series, which brings together representatives from the healthcare and life sciences fields.
Case competitions also make up a crucial component of the Kelley MBA experience. These competitions allow Kelley MBAs to hone their presentation skills, network with peers from other universities, and showcase their knowledge in front of corporate recruiters. By participating in — and often winning — these national case competitions, Kelley MBA students can further develop their business knowledge and experience.
Campus Spaces
The Kelley School has two campuses: one in Bloomington and one in Indianapolis. The campus in Bloomington has a population of approximately 43,000 students who hail from around the United States and over 40 countries. The Kelley School is comprised of two buildings located on the center of campus, and the $33 million Godfrey Center is home to Kelley's full-time MBA program. Furthermore, the Indiana University-Purdue University Indianapolis campus is home to the school's Evening MBA program, as well as its Business of Medicine MBA.
↑
MBA Careers
Career Services
The Kelley School's Graduate Career Services helps students develop the skills needed to pursue their desired careers. Students can get help with networking, interview tips, and job selection. Individualized coaching is also available. Furthermore, over 300 companies recruit from the Kelley School, and the top MBA hiring companies include: 3M, Conagra, Deloitte Consulting, DowDupont, Ecolab, General Motors, Johnson & Johnson, and Procter & Gamble.
Career Statistics
The graduates of 2018 fanned out across several industries. Consulting was the most popular industry selected, as 18% of graduates selected it. Consumer packaged goods followed closely with 17%. Fifteen percent of the class pursued positions in the technology industry, while 13% elected manufacturing. Financial services was also popular, as 12% of graduates joined the industry.
Nearly half of the Class of 2018 settled in the Midwest. The next most popular destination of the Western U.S., which claimed 20% of graduates. The Northeast followed with 9% and 1% moved abroad.
↑
Financing
Tuition
For 2019-2020, the Kelley School's tuition for a full-time MBA is $27,863 for Indiana residents and $51,451 for nonresidents or international students. With total fees, including room and board, the cost of attendance comes to $52,502 for residents and $76,090 for nonresidents. Over half of the students receive merit aid, which is awarded during the admissions process. Merit awards range from $10,000 to full tuition and are based on an applicant's application strength, GMAT score, and professional accomplishments.
Financial Aid
Dean's Fellowships, which cover two full years of tuition, are given to students who have exceptional professional experience, academic records, and leadership potential. In addition, recipients of these fellowships can work with the Kelley Dean's Council, which is comprised of influential business leaders. Next, the Forte Foundation offers full or half-tuition fellowship awards to female students, and the Kelley School provides up to $30,000 each year to students with a direct Latin American connection. Lastly, the Kelley School of Business Merit Fellowship provides $7,500–$30,000 to students who have strong academic and leadership skills. Many students receive graduate assistantship appointments and work about 12 hours a week to earn a stipend.
Estimated Cost of Attendance (per year)
Tuition:
Residents $27,863
Non-residents $51,451
Mandatory Fees $2,221
Room & Board $13,432
Books & Supplies $1,950
Transportation $2,958
Miscellaneous $4,078
Total:
Residents $52,502
Non-residents $76,090
↑
Recent Indiana / Kelley News